President Fadlo R. Khuri, of the American University of Beirut – Faculty of Health Sciences, Graduate Public Health Program, is a recipient of the World No Tobacco Day 2018 Award from the World Health Organization (WHO) for the Eastern Mediterranean region. This annual award recognizes individuals or organizations in each of the six WHO regions for their accomplishments in the area of tobacco control. This recognition takes the form of WHO Director-General Special Recognition Awards and World No Tobacco Day Awards.
The award is a tribute to all of President Khuri's past and current efforts to make the AUB campus free from smoking and all tobacco products. This goal was fully achieved when AUB became officially tobacco-free on January 1, 2018.
Dr. Khuri formed the AUB Tobacco-Free Task Force in March 2017, chaired by Dr. Rima Nakkash, associate professor at the Faculty of Health Sciences and WNTD 2013 awardee, who led a 30-member faculty/staff/student advisory team from campus and the AUB Medical Center to steer the development, implementation, enforcement and evaluation of his mandate. The task force delivered its recommendations to Dr. Khuri in August after comprehensive and inclusive deliberations and discussions within the community, ensuring the requisite considerations were in place to mitigate safety, crowding, and littering issues and allow for transition. Its work included a communications campaign under the slogan "Tobacco Free AUB 2018," a mapping and an evaluation component, and a policy group to draft the new policy.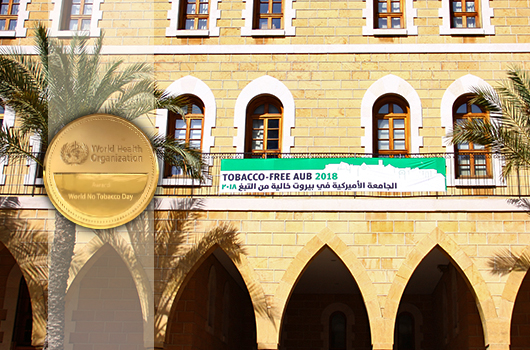 In a letter addressed to the members of the AUB Board of Trustees, Dr. Philip S. Khoury, chairman of the Board of Trustees, said: "I am very pleased to inform you that our president, Dr. Fadlo R. Khuri, will receive a WHO World No Tobacco Day 2018 Award."
"This is a wonderful honor for Fadlo whose life's work has included a profound commitment to combatting tobacco use," said Dr. Khoury.  "He demonstrated this commitment at AUB as soon as he became our president by leading the effort to make the AUB campus tobacco-free."
It is worth mentioning that President Khuri is the only second university president to receive the award since its inception in 2004 and he is the first leader in higher education to be recognized in the Regional Office for the Eastern Mediterranean. Through Dr. Khuri, the American University of Beirut is the first institution of its kind to be recognized by the WHO for its stance to protect students from tobacco smoke in a region with a generally lax attitude towards tobacco control.​