Dr. Yann C. Klimentidis, assistant professor and genetic epidemiologist at the University of Arizona Mel and Enid Zuckerman College of Public Health has received a $1.1 million grant from the National Institutes of Health, National Heart, Lung, and Blood Institute to understand the genetic and biological connection between type-2 diabetes and cardiovascular disease. The researchers will also examine why cholesterol lowering statin drugs are linked to an increase in the risk of type-2 diabetes, even as they reduce the risk of heart attacks.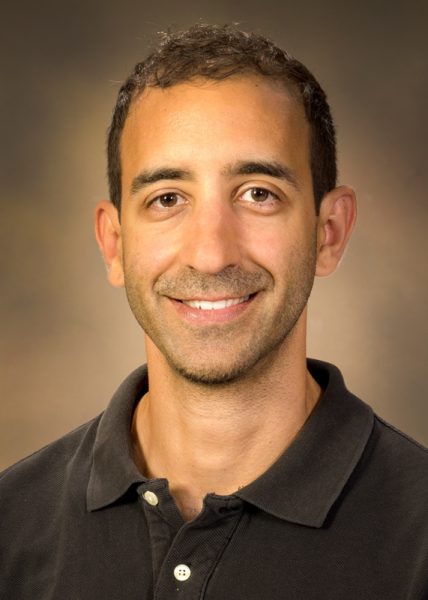 [Photo: Dr. Yann C. Klimentidis]
According to the Centers for Disease Control and Prevention (CDC) 2017 National Diabetes Statistics Report, an estimated 30.3 million people of all ages — or 9.4 percent of the U.S. population — had diabetes in 2015. In 2014, 1.5 million hospital discharges were reported for major cardiovascular diseases of which 70 percent had diabetes.
The genetic basis of obesity and related diseases is the focus of Dr. Klimentidis' research. He uses genetic information to understand exactly why and how disease occurs. This knowledge can be used to minimize health disparities, individually tailor treatment and prevention plans, and improve prediction of disease risk.
"There is a biological overlap between cardiovascular disease and diabetes and it creates a bit of a puzzle. We know that high glucose levels present a risk for type-2 diabetes and high cholesterol presents a risk for cardiovascular disease," said Dr. Klimentidis. "I'm trying to find genes that affect both cholesterol and glucose, especially those that affect them in opposite directions, contrary to expectations."
Dr. Klimentidis cites statin drugs as an example of this interesting overlap. People who take statins to lower their cholesterol are at a slightly higher risk of developing Type 2 diabetes.
"If we can understand why this happens, the information could help us to prescribe drugs more carefully based on a patient's genetics," he added.
The investigators will review multiple studies using publicly available health and genetic data from the Database of Genotypes and Phenotypes (dbGaP) in the U.S. and the UK Biobank, giving them access to data on at least 650,000 individuals.
This new study builds on previous research by Dr. Klimentidis and colleagues published in the journals Circulation: Genomic and Precision Medicine, February 5, 2016 and PLOS Genetics, May 28, 2015.
Dr. Klimentidis and co-investigators on this study form a multidisciplinary team: Dr. Jin Zhou, assistant professor of biostatistics, UA Mel and Enid Zuckerman College of Public Health; Dr. Craig Stump, associate professor, UA College of Medicine – Tucson; Dr. Alexis Wood, associate professor of pediatrics and nutrition, Baylor College of Medicine; and Dr. Jose Ordovas, professor of nutrition and genetics, Tufts University.
NIH, National Heart, Lung, and Blood Institute Grant No.: 1R01HL136528-01A1.