On May 19, Dr. Joseph H. Bates, Associate Dean for Public Health Practice at the University of Arkansas for Medical Sciences (UAMS) Fay W. Boozman College of Public Health (COPH), received the Chancellor's Award at the 2018 UAMS Commencement, held at the Verizon Arena in North Little Rock, AR.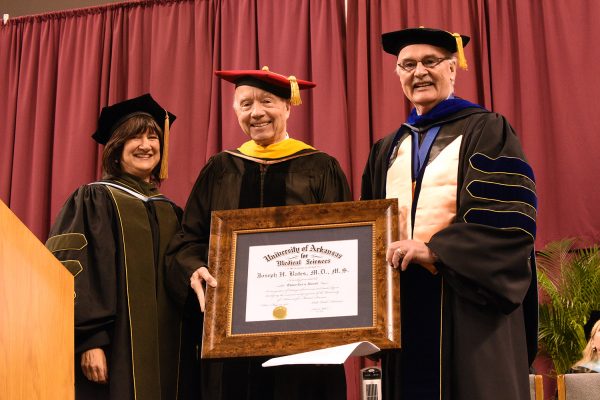 [Photo: Dr. Bates (center), receives the Chancellor's Award at Commencement. Along with him are UAMS interim chancellor, Dr. Stephanie Gardner, and College of Public Health dean Dr. Jim Raczynski]
Dr. Bates, an Arkansas native, is recognized nationally and internationally for his research that greatly improved the understanding and treatment of tuberculosis. He spent 35 years at UAMS, including 21 years as vice chair for the UAMS College of Medicine's department of internal medicine, and 20 years as chief of medical service for the Central Arkansas Veterans Hospital.
Upon his retirement from UAMS in 1998, Dr. Bates began a second career in public health at the Arkansas Department of Health by becoming the deputy state health officer and chief science officer. He was instrumental in establishing the Arkansas Center for Health Improvement and the UAMS Fay W. Boozman College of Public Health, where he continues to serve as associate dean for public health practice and professor of epidemiology.
He was nationally recognized by the Association of State and Territorial Health Officers (ASTHO) as a Public Health Hero for his work in tuberculosis treatment and control; for his pivotal advocacy to dedicate Arkansas' share of tobacco settlement funds solely to health initiatives; for advocacy of the Arkansas Clean Indoor Air Act of 2006 to ban smoking in most indoor environments; and for successful efforts to pass the 2009 tobacco tax increase to fund the statewide trauma system, cancer programs and other health initiatives. He has mentored countless students, residents, and Fellows at UAMS and the Central Arkansas Veterans Hospital.
The Chancellor's Award is presented to a person or persons whose service to UAMS is deserving of special recognition. The award was first presented in 1987 to Mr. Sam M. Dixon; past recipients include former U.S. Sen. Dale Bumpers and philanthropists Mr. Jack Stephens, Mr. Lawrence Schmieding and Mr. Willard and Ms. Pat Walker.