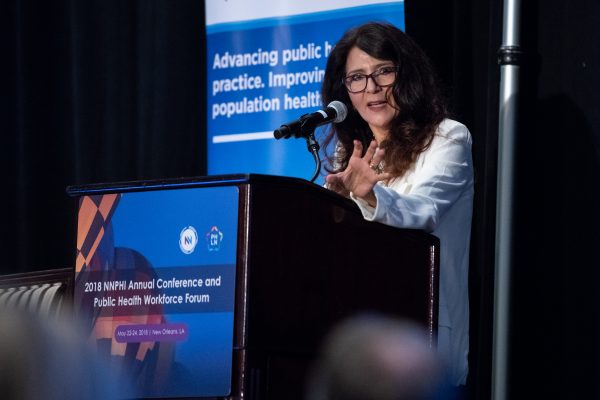 [Photo: Dr. Laura Magaña presenting at NNPHI Annual Meeting]
This week, ASPPH leadership attended the annual meeting of the National Network of Public Health Institutes. The conference was held in New Orleans and was preceded by a full-day public health workforce forum.
Dr. Laura Magaña, president and CEO, presented at the opening keynote and shared her perspective on the future of public health education and the importance of partnerships between academia and practice. Following the keynote, Dr. Magaña joined a panel with public health practitioners responding to her presentation. Ms. Allison Foster, deputy executive director,  presented a poster on the Certified in Public Health credential and participated in an advisory group for a new learning system. Also in attendance were a number of faculty and staff from ASPPH member schools and programs of programs of public health.
The NNPHI represents over 40 public health institutes which are non-profit organizations dedicated to advancing public health practice and making systematic improvements in population health.as well as 10 university-based regional training centers, and 40 affiliates.
Moderator:
Dr. Betty Bekemeier, Director, Northwest Center for Public Health Practice
Panelists:
Ms. Sarah Gillen, Chief Operating Officer, Louisiana Public Health Institute
Dr. Karen Minyard, Chief Executive Officer, Georgia Health Policy Center