On Monday and Tuesday, ASPPH representatives attended the annual ASPHER Deans' and Directors' Retreat. The retreat was attended by nearly 200 delegates from schools and programs of public health across the European Region as well as representatives from the related organizations such as the World Health Organization, the European Centre for Disease Prevention and Control, the Italian Society for Public Health and the World Federation of Public Health Associations.
The meeting began with a welcome session hosted by Dr. Katarzyna Czabanowska, ASPHER immediate-past president and Dr. Carlo Signorelli, professor of hygiene and public health at the Universities of Parma and Vita-Salute San Raffaele, Milan. The keynote was delivered by Dr. Gaetano Maria Fara, emeritus professor, Sapeienza University of Rome and Dr. Martin McKee, professor of European Public Health, London School of Hygiene and Tropical Medicine.
The conference then highlighted a series of topics including Public Health Workforce, Climate Change, Immunizations, Public Health Training and Education, and Public Health Law.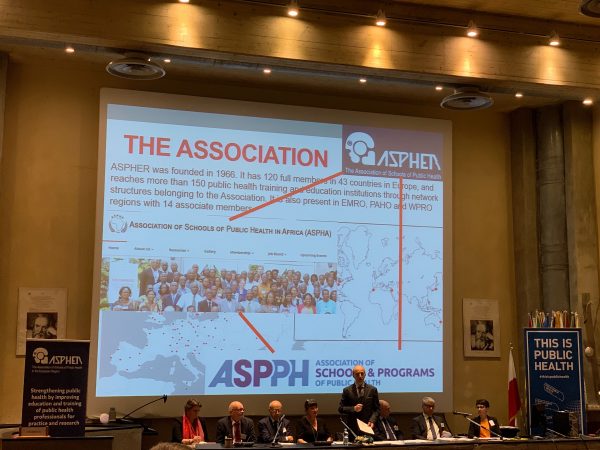 ASPPH was represented by a number of members and staff. Board member, Dr. Linda Fried, dean of the Columbia University Mailman School of Public Health delivered a keynote on preparing health professionals for the impact of climate change; Dr. Laura Magana, ASPPH president and CEO, presented on public health workforce development; Ms. Allison Foster, NBPHE president and ASPPH CFOO, presented the collaboration with ASPHER to conduct a job task analysis in Europe; Dr. Suzanne Selig professor of public health from the University of Michigan-Flint undergraduate program in public health, member of ASPPH UG network, presented on the importance of undergraduate education;  Mr. Scott Burris, professor, Temple University School of Public Health. gave a keynote on Public Health Law, and Dr. Suzanne Babich, professor and associate dean of global health from the Indiana University School of Public Health, participated in a panel in professionalization and leadership.
ASPHER also announced a new partnership with ASPPH, the launch of a European This Is Public Health campaign. We look forward to sharing more information about this sister campaign and other partnership activities with ASPHER soon.