ASPPH is pleased to welcome two new participants to our ASPPH/NHTSA Public Health Fellowship Program. The new ASPPH Fellows began their assignments this week with the National Highway Traffic Safety Administration (NHTSA), a division of the U.S. Department of Transportation.
This prestigious fellowship program offers applied public health training opportunities for recent graduates of ASPPH member, Council on Education for Public Health (CEPH)-accredited schools and programs of public health. During the next one to three years, the fellows will train under the guidance of mentors within NHTSA.
The ASPPH/NHTSA Public Health Fellowship Program offers excellent training opportunities aimed to strengthen the public health workforce, as well as strengthen the linkages between public health, traffic safety, and injury prevention by providing opportunities for early-career public health professionals to acquire and practice the skills needed to perform essential public health services as they pertain to traffic safety specifically, and public health in general. NHTSA promotes and implements effective educational, engineering, and enforcement programs to prevent injuries and deaths and reduce economic costs associated with motor vehicle crashes on the nation's roadways.
The 2019 – 2020 ASPPH/NHTSA Public Health Fellows are:
Aimee Cox, MPH, graduate of the University of South Florida College of Public Health, will be based in the Office of Behavioral Safety Research in Washington, DC
Morgan Drexler, MPH, graduate of the Saint Louis University College for Public Health and Social Justice, will be based at the Office of Impaired Driving and Occupant Protection in Washington, DC.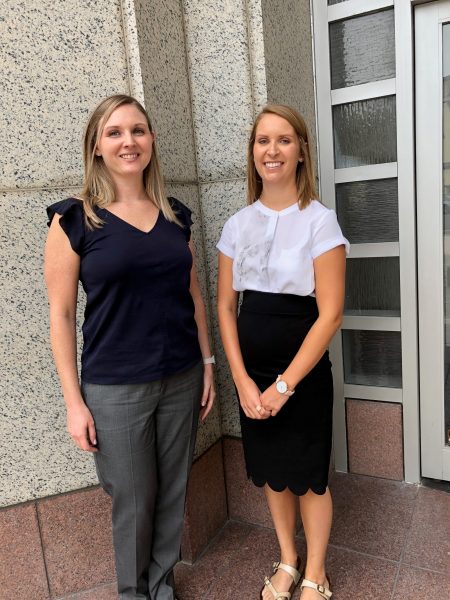 The new ASPPH Fellows participated in a variety of introduction and training sessions by ASPPH and NHTSA as orientation to the program. ASPPH would like to thank our partners at NHTSA for their continued support of this important public health workforce development program.
Questions may be directed via email to ASPPH Graduate Training Programs at TrainingPrograms@ASPPH.org.