Fruit and vegetable (F&V) intake among adults in the United States (U.S.) is low. On average, only 18 percent of adults consume the daily recommended intake of fruits and only 14 percent consume the daily recommended intake of vegetables. Low F&V intake is further exacerbated by factors related to low neighborhood socioeconomic position (SEP) such as neighborhood-level income, poverty, education, and unemployment.
This study, conducted by lead author, Dr. Dulin, Manning Assistant Professor of Behavioral and Social Sciences, examined whether neighborhood-, friend-, and family- norms and social support for consumption and purchase of F&Vs were associated with F&V intake among low-income residents in subsidized housing communities. It was hypothesized that after adjustment for sociodemographic characteristics, stronger neighborhood, peer, and family norms and social support for F&V will be associated positively with F&V intake.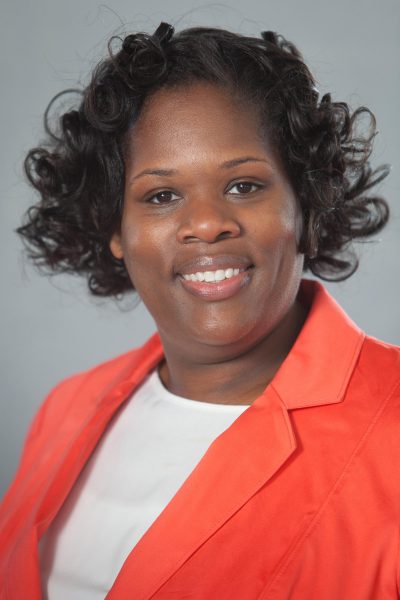 [Photo: Dr. Akilah Dulin]
The authors examined baseline data from a study ancillary to the Live Well/Viva Bien intervention. Participants included 290 residents in four low-income subsidized housing sites who were ≥ 18 years of age, English and/or Spanish speaking, and without medical conditions that prevented consumption of F&V. Linear regression models examined associations of norms and social support with F&V intake after adjustments for sociodemographic characteristics.
Results indicated that neighborhood social support for F&V was associated with a 0.31 cup increase in F&V intake (95 percent CI = 0.05, 0.57). The family norm for eating F&V and family social support for eating F&V were associated with a 0.32 cup (95 percent CI = 0.13, 0.52) and 0.42 cup (95 percent CI = 0.19, 0.64) increase in F&V intake, respectively.
To date, no other studies have examined neighborhood, family, and peer norms and social support simultaneously and in relation to F&V intake. These findings may inform neighborhood interventions and community-level policies to reduce neighborhood disparities in F&V consumption.
This article was published in BMC Public Health in April 2018.