"I never thought that I would be on the evidence-generating side of policymaking," says Boston University School of Public Health (BUSPH) doctoral student Dr. Salma Abdalla, who is also a physician. "But research is what's needed most now in Sudan, and I realized that I love it."
Earlier this year, Dr. Abdalla received an opportunity to hone her research and policy analysis skills when she was named an "Emerging Voice of 2018" and selected to participate in the Emerging Voices for Global Health initiative. Created by the Institute for Tropical Medicine, Antwerp, in 2010, the international training program is geared toward promising health policy and systems researchers, health activists, policymakers, and journalists who plan to become "influential global health voices or local change makers." Dr. Abdalla, who is from Khartoum, Sudan, and has an interest in global health, was one of 38 applicants selected this year from a pool of 500 candidates representing 80 countries.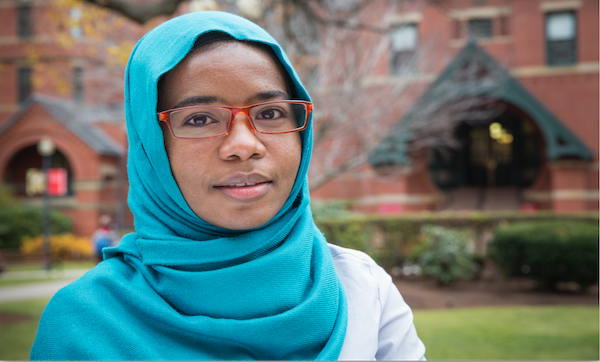 [Photo: Dr. Salma Abdalla]
The program consists of both online and in-person training to help participants tailor their communication skills to the needs of the research community and its audience. For this year's group of Emerging Voices, the digital training began in July and included nine weeks of modules taught by public health experts who helped participants develop a presentation and a poster or policy brief on a public health topic of their choice. The participants presented their work at the Fifth Global Symposium on Health Systems Research, which took place from October 8-12 in Liverpool, England.
During the symposium, Ms. Abdalla presented in a session on primary care in the era of universal health coverage. She showcased the impact of the primary care experience on health indicators in Sudan. Ms. Abdalla received her medical degree in Sudan before moving to Boston, so she is keenly aware of the challenges of providing quality healthcare to the Sudanese population.
"The main problems with the healthcare system in Sudan are a lack of funding and a lack of good governance of the healthcare system itself," Ms. Abdalla says. "My worry is that if we don't have funding to support a strong system, we will not be able to address the increasing prevalence of non-communicable diseases. I can't imagine what the disease burden will be in 10 to 15 years if we do nothing."