An article co-authored by Mr. Gregory Cohen and Ms. Laura Sampson, statistical analysts in epidemiology at Boston University School of Public Health (BUSPH), was selected by the American Journal of Epidemiology and the Society for Epidemiologic Research (SER) as one of the 2017 Articles of the Year.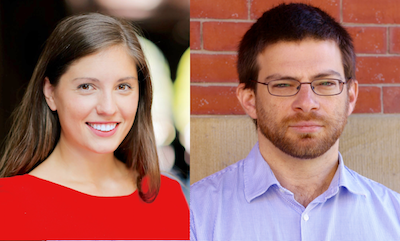 The study, "Deployment and Alcohol Use in a Military Cohort: Use of Combined Methods to Account for Exposure-Related Covariates and Heterogeneous Response to Exposure," took into account factors that predict whether someone is deployed to a combat area, and how post-deployment alcohol use varies in the long term. While previous studies have shown deployment is associated with increased drinking, the combined methods of this study revealed a non-significant increase in monthly drinks in the first year after deployment, regressing to pre-deployment levels two years later.
"This study provides a valid comparison of drinking outcomes among deployed and non-deployed service members by using statistical methods to address the 'Healthy Warrior Effect,' the fact that soldiers who are deployed to conflict areas are often healthier to begin with than those who are not deployed," says Ms. Sampson, who is also a PhD student.
"Accounting for this baseline difference, and examining changes in alcohol use patterns over time instead of using a binary outcome from one time point, helps us to estimate a more valid effect of combat deployment on subsequent alcohol use patterns compared to previous studies," Mr. Cohen says.
Dr. Sandro Galea, dean and Robert A. Knox Professor, was also co-author on the study.
The editors of the American Journal of Epidemiology select articles of the year that "represent scholarship that is truly distinguished." A list of all ten 2017 Articles of the Year will appear in the April 2018 issue of the journal, and Articles of the Year awardees will be honored at the Society for Epidemiologic Research (SER) Annual Meeting in Baltimore from June 19 to 22.