As the public health community debates using e-cigarettes, also known as vaping, as a less harmful alternative to smoking, a new study by Boston University School of Public Health (BUSPH) researchers finds white and higher-income smokers are more likely to make the switch.
The study, published in Nicotine & Tobacco Research, found non-Hispanic white smokers were nearly four times more likely to switch exclusively to vaping than their non-Hispanic black or Hispanic counterparts, while higher-income smokers were twice as likely as lower-income smokers to switch. The researchers also found Hispanic and black smokers were twice as likely to believe e-cigarettes were more harmful than cigarettes, compared to white smokers.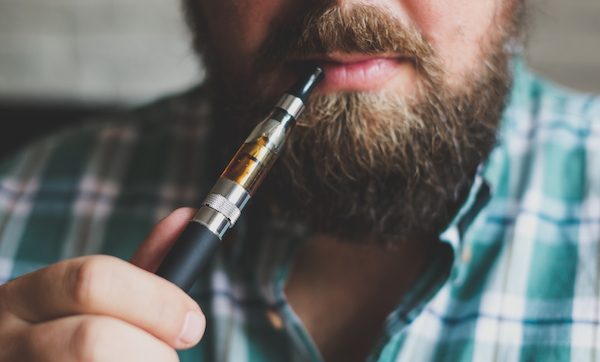 [Photo: Young man with electronic cigarette]
"A lot of the focus with e-cigarette research has been around whether they can help smokers quit combustible cigarettes," says BUSPH doctoral student Alyssa Harlow, the study's lead author. "But another important question is which smokers may be benefiting more from e-cigarettes as a harm reduction measure, and why?"
The researchers used data from the nationally-representative Population Assessment of Tobacco and Health (PATH) study, begun by the National Institutes of Health and the FDA in 2013. For the new study, the researchers looked at 6,592 adult participants who reported smoking and not vaping in the first wave of PATH between September 2013 and December 2014, and also responded to the second wave between October 2014 and October 2015.