As the number of adults with Alzheimer's disease and dementia steadily increases, questions around their access to firearms remain largely unaddressed, according to a new study.
"Firearm access, like driving, can pose a risk of injury or death to both cognitively- impaired individuals and those with whom they interact," said the study's lead author Dr. Marian (Emmy) Betz, assistant professor of epidemiology at Colorado School of Public Health: University of Colorado. "How can health care providers, family members and friends balance firearm-related safety concerns with the rights and wishes of the individual?"
The study​ was published May 14 in the Annals of Internal Medicine.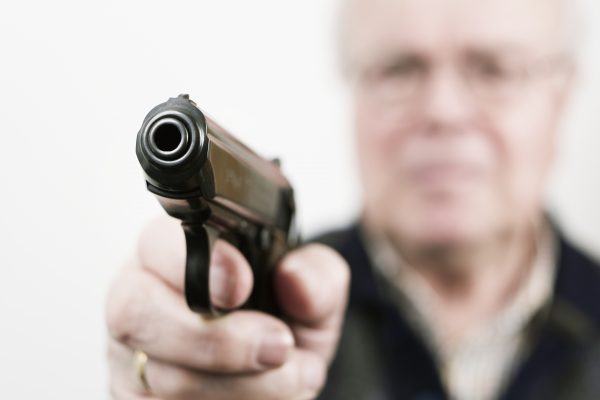 [Photo: Senior with a gun]
Dr. Betz and her colleagues from institutions including Johns Hopkins University, the University of Michigan and the University of California Davis, examined clinical perspectives relating to assessment and counseling about firearm access for those with dementia or other cognitive impairment.
They found that nearly 4.7 million adults had Alzheimer's in 2010 and that number was expected to grow to 13.8 million by 2050. The disease accounts for about 70 percent of all dementia cases. That means the total number of people with cognitive impairment and a firearm at home will also grow.
The study noted that even in the highly politicized atmosphere surrounding gun ownership, about 89 percent of Americans support limiting firearm purchases and access to those with a mental illness. Americans also support temporarily reducing gun access in times of elevated suicide risks.
"The primary firearm injury risk for individuals with dementia is likely to be death by suicide," said Dr. Betz. "Some 91 percent of older adults' firearm deaths are due to suicide, and firearms are the most common method of suicide among people with dementia.
Read the entire story in the ColoradoSPH Newsroom.