A new study explored findings of a population-based approach to measure the prevalence of unaccompanied and separated children during the Hurricane Matthew aftermath in Haiti. Overall, the rates of separation were relatively low suggesting that separation is not a uniform phenomenon across emergencies. The research led by Dr. Lindsay Stark, Columbia University Mailman School of Public Health associate professor of population and family health, and director of the CPC Learning Network, is the first known attempt to measure the prevalence of child separation following a natural disaster, and shows that a population-based survey approach is feasible. The results are published in the journal BMJ Global Health.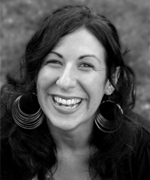 [Photo: Dr. Lindsay Stark]
"Our findings from Haiti emphasize the importance of collecting population-based data about local separation patterns whenever possible and avoiding the use of crude, unproven 'rules of thumb' to generalize about separation in a given situation," said Dr. Stark.
Participants were asked to provide information on their own household composition, as well as the household composition of their closest neighbor (the Neighborhood Method). The study took place between February and March 2017 in Haiti's Sud Department, a region severely affected by Hurricane Matthew in October 2016. A total of 1044 primary respondents provided information about their own household, and 4165 people in the household of their closet neighbor. Primary households reported that they had lived in their current location for an average of 27 years. Average household size was 6.06 people, including an average of 2.08 children per household.
Of the 2046 children currently living in the surveyed households, 3 percent were reported to have been separated from their normal caregiver during Hurricane Matthew. Among these 62 children, 9 were unaccompanied, and there were slightly more boys than girls (56 percent vs 44 percent). Of the 2060 children who lived in surveyed households when the hurricane hit, one percent had since departed without their caregiver. The prevalence of separation reported for neighbors' households was not significantly different from that in respondents' households.
"Our findings underline the wide variability in rates of separation in different emergencies," Dr. Stark noted. "The data also reveal certain groups of children who may be at increased risk of separation in these situations."
For example, fathers were identified as the primary caregivers before the hurricane for 30 percent of departing children and 10 percent of arriving children. "This suggests that after natural disasters, prompt and targeted outreach to families with children under the primary care of their fathers may be merited," said Dr. Stark.
The study was undertaken on behalf of The Alliance for Child Protection in Humanitarian Action, in collaboration with Save the Children and funded by the U.S. Agency for International Development's (USAID's) Office of Foreign Disaster Assistance. Co-authors include: Mr. Matthew MacFarlane and Ms. Beth Rubenstein, Mailman School of Public Health; Dr. Gary Yu, Mailman School of Public Health and New York University; and Ms. Celina Jensen and Ms. Katharine Williamson, Save the Children, UK. The authors report no competing interests.