Dr. Linda P. Fried, dean of Columbia University Mailman School of Public Health and Delamar Professor of Public Health, received the 2018 Lifetime Achievement Award of the International Congress of Frailty and Sarcopenia at their annual conference held last week. Dean Fried was recognized for her pioneering work that has brought frailty to the attention of clinicians, researchers and public health experts.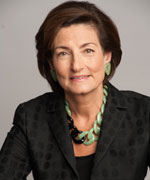 The Conference, convened by the International Academy of Nutrition and Aging, brought together researchers from academia, the public sector, and industry to share news and results from clinical and pre-clinical drug trials, nutrition, physical and other interventions on frailty and sarcopenia.
Dr. Fried's contributions to promoting healthy aging spans nearly 40 years. A leader in the fields of epidemiology and geriatrics, she has dedicated her career to the science of healthy aging and done seminal work in defining frailty as a clinical syndrome. Her scientific discoveries have transformed medical care and public health globally, and our understanding of how to build successful societies of longer lives. Her seminal article "Frailty in older adults: Evidence for a phenotype" has been cited nearly 9000 times. Dr. Fried is also the designer and co-founder of Experience Corps, an evidence-based program in which older volunteers serve in public schools in cities across the country.
In 2016 Dean Fried received Inserm International Prize in Medical Research. She has been profiled by The New York Times as one of 15 world leaders in science, and global publisher Thomson Reuters named her "one of the most influential scientific minds of the past decade."
Dr. Fried is the 2016 – 17 President of the Association of American Physicians (AAP), the elected society of the U.S. leading physician scientists. She is the second dean of a School of Public Health to be President of AAP, the first being William Henry Welch in 1904. Most recently, Dr. Fried was elected to the Council of the National Academy of Medicine, formerly the Institute of Medicine, The Council is the governing body of the Academy elected by the membership.
At the conference, Dean Fried delivered a keynote address titled "Frailty: What's Been Done and What Needs Doing."