The African Academy of Sciences (AAS) inducted ICAP founder and global director Dr. Wafaa El-Sadr, as a Fellow at its 11th General Assembly Meeting in Pretoria, South Africa. Fellows are African scientists who have attained the highest international standards and made significant contributions to the development and application of science, technology and innovation in Africa.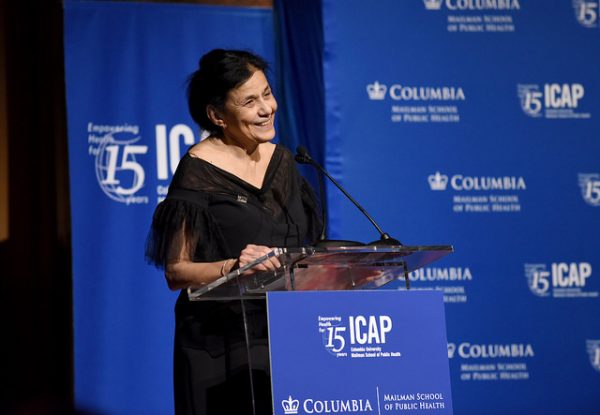 [Photo: Dr. Wafaa El-Sadr]
Dr. El-Sadr is an international expert in epidemiology and research on the prevention and management of HIV, tuberculosis, and other infectious diseases. For over three decades, she has advocated for families and communities most impacted by HIV and championed a collaborative, multidisciplinary approach to confronting the global epidemic. She leads ICAP's portfolio of projects in more than 30 countries; under her leadership, ICAP has become a global leader in health systems strengthening and addressing major public health challenges including maternal and child health, women's health, and non-communicable diseases, among other health threats.
"Exemplifying selfless dedication and commitment to lifting the burden of the HIV epidemic among the poor and vulnerable in Africa, Dr. El-Sadr is being deservedly recognized by the African Academy of Sciences for her scientific accomplishments," remarked Mailman School epidemiology professor, Dr. Quarraisha Abdool Karim,  Fellow AAS and associate scientific director of CAPRISA, the research center based in Durban, South Africa. "My heartiest congratulations to Dr. El-Sadr; it is an honor and privilege to have someone of her caliber inducted as an AAS Fellow."
"It is truly an honor to join this group of distinguished AAS Fellows," said Dr. El-Sadr, university professor of epidemiology and medicine, who also holds the Dr. Mathilde Krim-amFAR chair in global health at Columbia Mailman School of Public Health. "This Academy is distinguished by bringing together individuals from diverse disciplines all engaged in contributing to the growth and development of the great African continent."
Dr. El-Sadr has also been affiliated with Harlem Hospital for more than two decades. She served as chief of the division of infectious diseases where she developed successful methods for responding to HIV/AIDS through groundbreaking research and innovative models of care in her own community.
Dr. El-Sadr is a principal investigator of the National Institutes of Health (NIH)-funded HIV Prevention Trials Network (HPTN), which seeks to prevent HIV transmission globally. She is a member of the NIH Fogarty International Center Advisory Board. In 2009, she was appointed to the National Academy of Medicine and in 2008, she was named a John D. and Catherine T. MacArthur Foundation Fellow, often referred to as "genius award." She is widely published in scientific literature, is a global thought leader, and serves as a model of service and dedication for countless students and colleagues at Columbia and beyond.