CNN selected Egyptian-American physician, researcher and public health champion Dr. Wafaa El-Sadr, for its list of nine immigrants who helped make America great. Dr. Wafaa El-Sadr is founder and director of ICAP at Columbia University Mailman School of Public Health.
Dr. El-Sadr was raised in Cairo by parents with a mission to help the poor. She volunteered with her parents, who were both doctors, to help impoverished people in the Mediterranean region and developed a passion for helping others.
She completed her medical degree at Cairo University in Egypt and went on to receive master's degrees from Columbia University and Harvard University, studying public health and government.
In 2003 Dr. El-Sadr became founder and director of ICAP at Columbia University's Mailman School of Public Health. ICAP has supported 5,750 health facilities in more than 30 countries that provide  services to treat and prevent HIV/AIDS. She has served as an adviser to the U.S. Food and Drug Administration and the U.S. Centers for Disease Control and Prevention, and is a current adviser to the World Health Organization.
Dr. El-Sadr is also university professor of epidemiology and medicine and Mathilde Krim-amfAR professor of global health at Columbia University. Through ICAP, she was instrumental in establishing large-scale programs in sub-Saharan Africa and Asia that integrate research, education, training and practice.  In addition to HIV/AIDS, ICAP's work focuses on confronting and advancing major public health challenges including maternal and child health, women's health, and non-communicable diseases, among other health threats.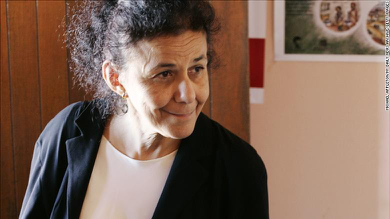 [Photo: Dr. El-Sadr]
Prior to her work at ICAP, she spent more than two decades at Harlem Hospital in New York City during the height of the HIV epidemic. She led the establishment of a novel program to respond to the epidemic that was centered on meeting the needs of affected individuals and families.
Dr. El-Sadr is also a prolific researcher with close to 400 publications. She was named a MacArthur fellow in 2008, often referred to as a "genius award," and is a member of the National Academy of Medicine.
In addition to Dr. El-Sadr, the CNN list of 9 includes Madeleine Albright, Isabel Allende, Sergey Brin, Bob Hope, Elon Musk, Indra Nooyi, I.M. Pei, and Dikembe Mutombo.