Ms. Nabeeha Kazi-Hutchins, president and CEO of the Washington, DC based international development agency Humanitas Global, was named executive director of No Wasted Lives, a coalition of agencies and partnerships that was launched to accelerate action for scaling up access to preventive and curative services for acute malnutrition.  Acute malnutrition, or wasting, affects 50.5 million children under five worldwide, and is the culprit of five million child deaths each year.  The heaviest burden is in Africa and Southern Asia.
A recipient of dual degrees from Columbia Mailman School of Public Health and School of International and Public Affairs in 2015, Ms. Kazi-Hutchins brings more than 20 years of advocacy, policy and program experience in nutrition, agriculture, early childhood development, and maternal and child health to No Wasted Lives, where she will lead advocacy, financing and policy development efforts.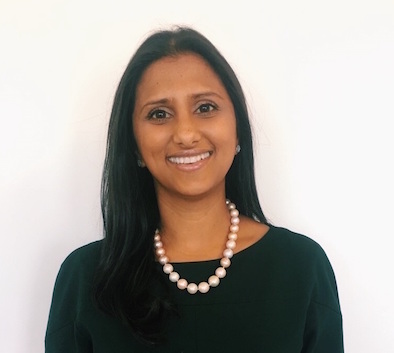 [Photo: Ms. Nabeeha Kazi-Hutchins]
In her current role as president and CEO of Humanitas Global, Ms. Kazi-Hutchins has led the agency in designing and implementing nutrition, agriculture and health programs worldwide. Previously, Ms. Kazi-Hutchins served as Partner at global public relations agency FleishmanHillard where she co-founded the firm's International Development Practice and was head of the Public Health Practice. Prior to that, at The Clinton Foundation, she directed efforts to scale up HIV testing and treatment in key African and Caribbean countries through businesses, partnership development and health systems strengthening. Earlier in her career, Ms. Kazi-Hutchins co-led an anti-child trafficking project with UNICEF and Columbia University, and also worked at EastWest Institute and International Maize and Wheat Improvement Center (CIMMYT) in Mexico.
Ms. Kazi-Hutchins has been a frequent keynote speaker on ending hunger, sustainably scaling up nutrition interventions and building resilient systems for greater food security at conferences around the world. She is currently a technical advisor or board member at such organizations as USAID Feed the Future, the World Health Organization (WHO), The New York Academy of Sciences, Food Tank, International Food Policy Research Institute (IFPRI), Centro Internacional del la Papa (CIP), Kansas State University and the Endangered Species Coalition.
"My career, and the collaborations to build and propel community-led, country-owned public health efforts, have been deeply influenced by my experiences and the extraordinary support from the Mailman School, where faculty are accessible and committed to opening doors for all students," said Ms. Kazi-Hutchins. "There was such a robust and complete experience where academic rigor was the norm, but field experiences, perspectives and opportunities to roll up our sleeves to get the work done, alongside Mailman faculty and researchers, are what I carry with me every day.  I am very grateful for having had that opportunity.