Dr. Quarraisha Abdool Karim, professor of epidemiology at Columbia University Mailman School of Public Health, was named one of seven trailblazing women in science by the British Broadcasting Corporation (BBC). Professor Abdool Karim, an infectious disease epidemiologist, has spent over 25 years researching how HIV/Aids is spread in South Africa, and its impact on women. The BBC 100 Women names 100 influential and inspirational women around the world every year.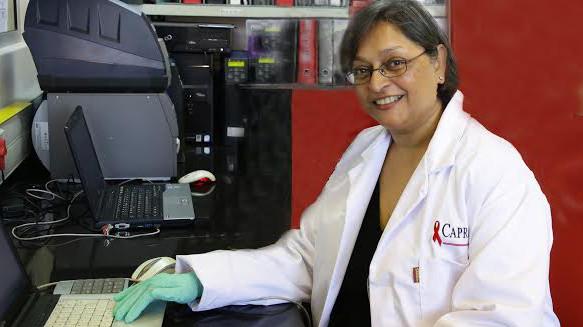 [Photo: Dr. Quarraisha Abdool Karim]
In addition to her Mailman School appointment, Dr. Abdool Karim is also associate scientific director, Centre for the AIDS Programme of Research in South Africa (CAPRISA), and adjunct professor in Public Health, Nelson R Mandela School of Medicine, University of KwaZulu-Natal, South Africa. She also has served as an HIV adviser at the United Nations.
Earlier this year, Nature profiled the careers and experiences of five eminent scientists who have made major discoveries in drug discovery, and Dr. Quarraisha Abdool Karim was one of the scientists featured. In 2013, she was awarded South Africa's highest honor, the Order of Mapungubwe, for her breakthrough contributions.
This past month, Dr. Abdool Karim and her husband Dr. Salim Abdool Karim were honored by the Institute for Human Virology (IHV) with a Lifetime Achievement Award for Public Service in recognition of their outstanding contributions to research on the AIDS pandemic.  In 2010 their groundbreaking research demonstrated that antiretrovirals can also prevent the sexual transmission of HIV in what was a watershed moment in the fight against the spread of the virus. The research was highlighted by Science as one of the Top 10 scientific breakthroughs in 2010.