The American Industrial Hygiene Association's (AIHA) Environmental Issues Committee announced that Dr. David Rosner, Ronald H. Lauterstein Professor, sociomedical sciences at the Columbia University Mailman School of Public Health, and Dr. Gerald Markowitz, sociomedical sciences adjunct professor, are the co-recipients of the 2018 Rachel Carson Award, the highest honor bestowed by the AIHA. Drs. Rosner and Markowitz were selected for their outstanding contributions towards advancing the public's awareness of environmental safety and health issues, problems and solutions that adversely affect the community and the environment. They will give a presentation about their work at the AIHA May 22 – 24th Annual Meeting in Philadelphia and be honored at a dinner and a morning award ceremony.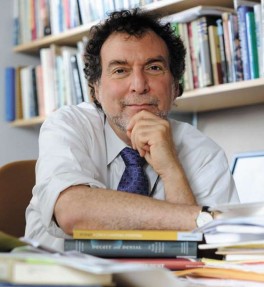 [Photo: Dr. David Rosner]
Recent past winners of the Rachel Carson award include Dr. Michael Yost, Dr. Joan Plisko, the Environmental Health Coalition, and Ecojustice Canada.
Dr. Rosner is also co-director of the Mailman School Center for the History & Ethics of Public Health, and Dr. Markowitz is Distinguished Professor at CUNY. An authority on occupational health and industrial disease, and the effects of lead in paint on the health of children in particular, Dr. Rosner co-authored the books Lead Wars: The Politics of Science and the Fate of America's Children and Deceit and Denial: The Deadly Politics of Industrial Pollution with Dr. Markowitz, where they examined the issue of lead poisoning over the years and in light of contemporary public health principles. Dr. Rosner has been a key witness in several court cases where much of the historical evidence was from research conducted for these books and aimed at removing lead from children's environments and compensating parents and governmental agencies for the costs of care and abatement of hazards in the home environment.
Drs. Rosner and Markowitz's most recent project, created along with their colleague Dr. Merlin Chowkwanyun, is the creation of a major website, toxicdocs.org. This site makes public 19,000,000 pages of internal company  documents concerning environmental and occupational hazards. The site should be of great interest to scholars of public health environmental policy, epidemiology and environmental science.
Dr. Rosner is a member of the honorary society of scientists, Sigma Xi since 1977, and both Dr. Rosner and Dr. Markowitz are elected members of the National Academy of Medicine.