Dr. John Rowe, Julius B. Richmond Professor of Health Policy and Aging at Columbia University Mailman School of Public Health is a finalist of the Heritage Healthcare Leadership Award by the Heritage Provider Network. Recognized for his leadership and innovation in the healthcare field, Dr. Rowe was cited for his significant impact on how health care systems work through new models, processes and pathways. Heritage Provider Network administers the award in partnership with Crain's New York Business.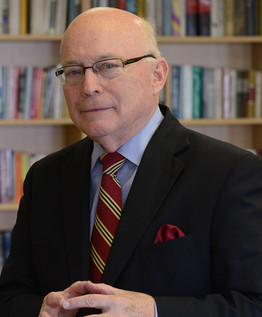 [Photo: Dr. John Rowe]
Dr. Rowe is a former CEO of Aetna and previously served as president and CEO of Mount Sinai Medical School and Medical Center, and of Mount Sinai NYU Health. In the first phase of his career, he helped establish the fields of geriatrics and medical gerontology, receiving tenure as a young academic at the Harvard Medical School. More recently, and since joining the Mailman School's department of health policy and management ten years ago, he has led the critical effort to create policies and institutions that are responsive to an increasingly aging society, while simultaneously serving as one of the nation's leading voices on health reform and the transformation of the U.S. health system more generally. Rowe currently leads the MacArthur Foundation's Network on an Aging Society. Most recently he was the senior author of a New Global Aging Index that Gauges Health and Wellbeing of Aging Populations.
Dr. Rowe will be honored at a luncheon on May 21.