In the Spring 2018 semester, over 25 University of Nebraska Medical Center College of Public Health students fulfilled the requirements for Certificate in Public Health, Certificate in Community Oriented Primary Care, Master of Public Health, Master of Science in Emergency Preparedness and Doctor of Philosophy programs.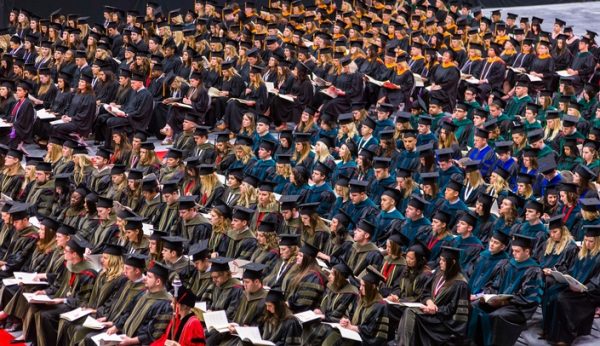 [Photo: UNMC Commencement 2018]
Select "read more" for a full list of graduates. Congratulations to all of our graduates and best wishes to you in your chosen Public Health professions!
UNMC College of Public Health Faculty, Students & Alumni Receive Distinguished Awards.
During the Spring 2018 Convocation at the UNMC College of Public Health, 12 faculty, students, and alumni were presented distinguished awards based on their outstanding contribution and dedication to the public health field. Congratulations awardees!
The following UNMC College of Public Health faculty, students, and alumni were honored.
FACULTY AWARDS
Excellence in Teaching Award: Dr. Lorena Baccaglini, associate professor, epidemiology, for her ability to break down and teach complex statistical concepts with humor and enthusiasm.
Carruth J. Wagner, MD – Faculty Prize in Public Health: Dr. Fernando Wilson, acting director and associate professor, Center for Health Policy, for his contribution to the recent closing of liquor stores and denial of liquor licenses in Whiteclay, NE.
Chancellor Robert D. Sparks, MD – Award in Public Health and Preventive Medicine:
Ms. Judy Martin, deputy director of the Community and Environmental Health Section, Division of Public Health, Nebraska Department of Health and Human Services. Ms. Martin has shown outstanding innovation and made significant impact in preventing disease and promoting health through public health education, research and practice, with particular attention to the needs of Nebraska and its citizens. Martin embraces evidenced-based approaches and respects the pivotal role that local and state partners have in achieving sustainable community health outcomes.
Fred & Eve Simon Public Health "Impact" Prize: Dr. Shinobu Watanabe-Galloway, vice chair and associate professor, epidemiology, for her prevention programs that reduce health disparities and her data collection initiatives that strengthen the understanding of health inequities, particularly in the areas of cancer prevention and control and behavioral health.
College of Public Health Faculty Research Award:  Dr. Aaron Yoder, PhD, assistant professor, environmental, agricultural and occupational health, for improving the health of workers in agriculture and related industries through science-based research, product development and outreach to reduce occupational hazards, leading to a healthier and safer workforce.
STUDENT AWARDS
Chancellor Robert D. Sparks, MD – Public Health Research Student Award:
Ms. Ellana Haakenstad and Ms. Yangyuna Yang.
Outstanding Service Learning/Capstone Experience Award: Mr. Caleb Adejoh.
Distinguished Student of Practice Award: Ms. Ashley Carroll.
The United States Public Health Service, 2018 Excellence in Public Health Award:
Ms. Bianca Christensen.
ALUMNI AWARDS
Early Career Achievement Award: Dr. Salomon Compaore, Class of 2014, director, Disease Control, and Prevention Office, Center Region Health Directorate in Ouagadougou, Burkina Faso.
Distinguished Alumnus Award: Dr. Erin Carlson, Class of 2004, associate clinical professor at University of Texas at Arlington's College of Nursing and Health Innovation, where she oversees development of graduate public health programs.