For over 50 years, the Supplemental Nutrition Assistance Program (SNAP), formerly known as Food Stamps, has helped millions of Americans avoid hunger and improve their access to healthy and nutritious food, promoting better health outcomes and helping alleviate some of the consequences of poverty.
Recent federal policy changes and proposals are seeking to restrict the utilization of public benefits such as SNAP by select segments of the population, namely immigrants, through policies that seek to restrict immigration, and impose stringent requirements on those who receive aid through safety net programs.
A new report published by the CUNY Urban Food Policy Institute (CUFPI), an academic and research center at the CUNY Graduate School of Public Health & Health Policy (CUNY SPH), examines how the intersection of these two trends – reducing food assistance and restricting immigration – is affecting the immigrants of New York City. According to Ms. Emilia Vignola, the lead researcher on the report and a doctoral student at CUNY SPH, the report "focuses on challenges and opportunities for action in New York" and aims to provide evidence to inform New York City and State policy affecting assistance for the food insecure, who in some cases are immigrants.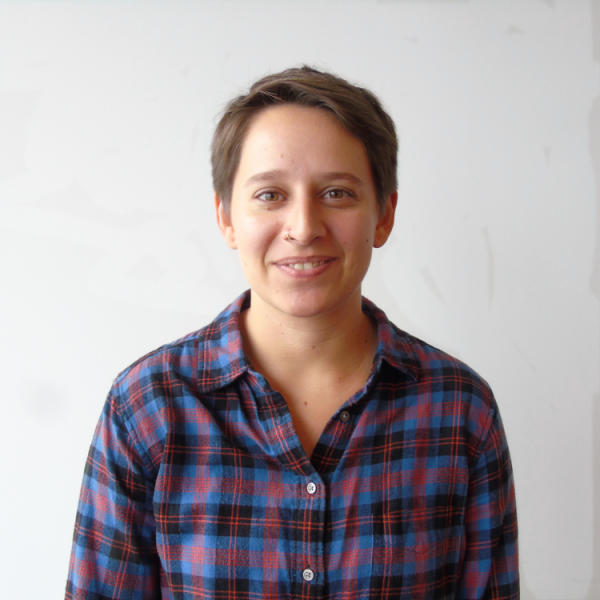 [Photo: Ms. Emilia Vignola]
Using an online survey of 50 staff from nearly 30 immigrant-serving and anti-hunger groups in the New York area, and in-depth interviews with key informants working in those organizations, CUFPI identified factors facilitating immigrant access to food benefits at the individual, organizational, and policy levels. These factors include the availability of social networks that connect immigrants to community services, adequate language skills and cultural competency of the staff of immigrant-serving and anti-hunger organizations, and sanctuary policies. CUFPI also identified barriers at each level including immigrants' reluctance to provide personal information to service programs, insufficient organizational outreach and education, and exclusionary public policies.
While some of these barriers and facilitators have been identified in previous research, this report finds an unprecedented level of fear and anxiety among immigrant communities. Intensified immigration enforcement, along with threats to withhold citizenship or impose charges on those who have utilized safety net programs such as SNAP are effectively reducing the protections against food insecurity and hunger for many New York City residents. "Actions and threats from the Trump administration have made many immigrants even more afraid to participate in SNAP and other essential food programs than before, even though they're eligible for many of those benefits," said Ms. Vignola. "This is likely going to increase hunger and food insecurity in immigrant communities around the country – unless cities and states do something about it."
With New York City counting more food insecure people and more immigrants than any other U.S. city, federal policies targeting food assistance programs and immigration have a significant effect on the city's residents.
The report makes several recommendations that city and state policymakers can undertake to alleviate the barriers to food assistance for immigrants. These recommendations include creating and expanding programs that bring food assistance to immigrants without requirements to provide documentation, develop multi-pronged communications and policy initiatives to reduce stigma against immigrants, strengthen the language and cultural capacity of organizations and social service agencies serving immigrant communities, and improving outreach and education initiatives to ensure all immigrants are enrolled in programs for which they are eligible and that they are fully aware of their rights. Reflecting on the opportunities for action in New York set forth in the report, Ms. Vignola noted, "Our state has one of the largest immigrant populations in the country, so we have the power to make a big impact."