In recent years, there has been a continuous expansion of mobile health, in which users can track their health and fitness via mobile apps. Health and fitness apps have great potential to improve health outcomes for populations with limited access to healthcare, as about 58 percent of adults in the U.S. own smartphones, according to a 2015 study. Such apps help the user set health and fitness goals and self-monitor their daily behavior whilst providing evidence-based behavior change techniques, individually tailored feedback, and periodic summaries.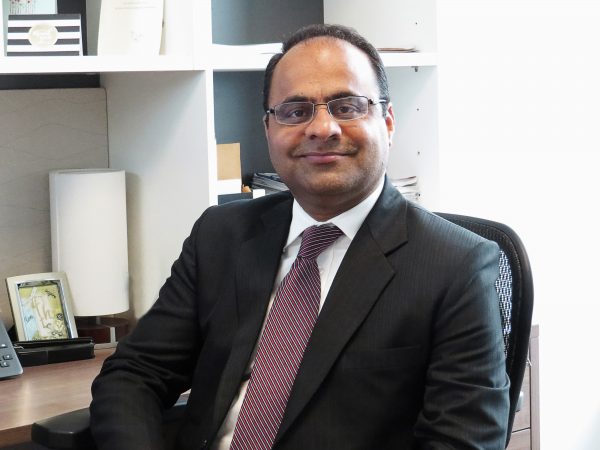 [Photo: Dr. Ashish Joshi]
While there are currently more than 100,000 health and fitness apps, there is a dearth of research evidence regarding their effectiveness. Dr. Ashish Joshi, associate professor of population health informatics at the CUNY School of Public Health, led a study to evaluate the features of health and fitness apps available in the Google Play Store. The findings were published in the journal Healthcare Informatics Research.
The study outlined the preliminary features readily accessible to users looking to choose a health and fitness app. Such features play an important role in guiding users' choices, preferences, and ultimately the utility of such applications. The study also identified limitations, including poor app-search engine optimization, inadequate information to guide users' decisions in obtaining diet and nutrition apps from electronic store platforms, such as Google Play Store, and the restriction to Google Play Store for identifying apps. In addition, limited data exists on user satisfaction or ratings of the apps. Dr. Joshi and his team say further research should seek to develop improved methods of designing these app-store platforms, to improve their filter and feedback capacities, as well as incorporating evidence-based information to properly guide users' decisions in selecting health and fitness apps.
"With the increased availability of health apps, there is a growing need for a systematic and structured approach to documenting the effectiveness of these apps so that the end user can make an informed decision as to which to choose," Dr. Joshi says. "Our study highlights the need for a multifaceted approach to evaluate these apps."
Schumer H, Amadi C, Joshi A. Healthc Inform Res. 2018 Jan;24(1):38-45. doi: 10.4258/hir. 2018.24.1.38. Epub 2018 Jan 31.