Teen pregnancy is often associated with significant financial and social burdens. Rates of teen pregnancy among sexual minority adolescents are estimated at two to seven times greater than those of their non-sexual-minority counterparts, yet population-based research is scarce on pregnancy among adolescent sexual minority women (ASMW; women who identify as lesbian or bisexual).
To examine whether sexual attraction is an important predictor of sexual minority adolescent pregnancy, Dr. Margaret Paschen-Wolff, a graduate of the doctoral program at CUNY Graduate School of Public Health and Health Policy, led a study stemming from her doctoral thesis which was published with CUNY SPH FacultyDr.  Christian Grov and Elizabeth Kelvin in the journal LGBT Health.
Using data from the 2002 to 2015 National Survey of Family Growth (NSFG), the researchers compared pregnancy among ASMW versus non-ASMW by sexual identity, attraction, and experience separately, and in a combined model in which interaction of aspects of sexuality and survey cycle was tested. The combined model was then stratified by survey cycle.
The study found that sexual minority identity and sexual minority attraction individually predicted higher pregnancy odds, although the difference was not significant in the combined model. Additionally, although sexual minority attraction predicted significantly decreased pregnancy odds in the combined 2002 to mid-September 2013 NSFG data, sexual minority attraction predicted increased odds of pregnancy in the rest of 2013-2015.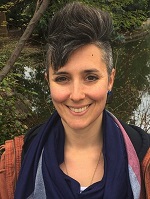 [Photo: Dr. Margaret Paschen-Wolff]
"The results suggest the importance of measuring sexual attraction when examining pregnancy disparities among ASMW," says Dr. Paschen-Wolff.  "Attraction may be a particularly important component for measuring adolescent sexual orientation over and above sexual identity or experience since adolescents may not want to affix an identity label to their sexuality or may not yet have had partnered sexual experiences. Sex education and teen pregnancy prevention programs should take sexual diversity into account for all adolescent women."
Margaret M. Paschen-Wolff, Elizabeth A. Kelvin, Brooke E. Wells, and Christian Grov. Sexual Orientation and Pregnancy Among Adolescent Women… LGBT Health, 31 Oct 2018