In one moment, Ben Vernon was walking up to a routine call. In the next, he was struggling to breathe after an attacker with a knife put a hole in his lung.
Almost three years after that terrifying incident, Mr. Vernon is speaking before a conference where Drexel University researchers are hoping to finalize a checklist to help medics like him recover from — and ultimately avoid — on-the-job attacks.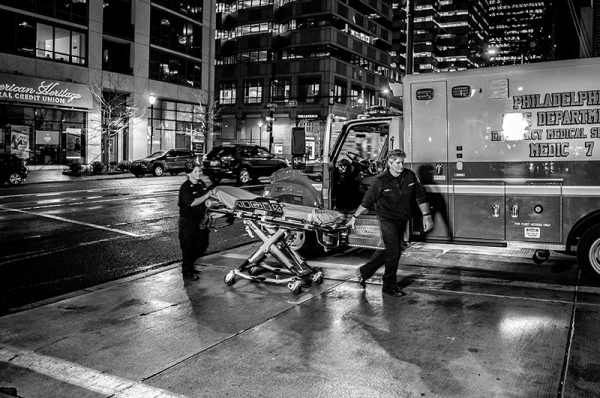 [Photo: A pair of medics walking in front of their ambulance in Philadelphia.
Photo by Jeff Fusco]
For two days, July 16 and 17, representatives from fire departments with EMS services across the country will converge on Drexel to finalize the checklist. Hosted by the Center for Firefighter Injury Research and Safety Trends (FIRST), which is run by Drexel University Dornsife School of Public Health's Dr. Jennifer Taylor the conference's goal is to get a system-level checklist that fire departments can use to examine their processes in the goal of identifying, assessing and, preventing violence against EMS personnel.
"The checklist will provide everything from training on what to expect on the job, to communication innovations, to after-care for physical — and mental — injuries," Dr. Taylor said. "It has a large emphasis on policy development and training so that members feel prepared and supported."
For example, one part of the checklist asks departments whether they have a system in place to flag certain locations where violence against first-responders has occurred in the past. If so, it then asks that dispatchers be trained to warn crews heading to the scene of the hazard so that they're prepared.
Other parts of the checklist cover how departments might manage the aftermath of a violent attack, including strategies for mindfully handling lingering anxiety and stress.
Taking such precautions is of the utmost importance because medics in fire departments are 14 times more likely to be violently injured on the job than their firefighter colleagues, past research by FIRST found.
"I think workers downplay this violence and the community doesn't know about it and the stress that it causes," Mr. Taylor explained. "Workers have internalized the belief that getting attacked is 'part of the job' because nothing has changed for so long and no one had been paying attention to their plight."