Dr. Neal Goldstein,  Drexel University Dornsife School of Public Health assistant research professor of epidemiology and biostatistics, was selected as a 2018 Health Disparities Research Institute (HDRI) Scholar. The Health Disparities Research Institute is scheduled to take place July 23-27 in Bethesda, Maryland. He was selected based on his interest in becoming a health disparities research scholar and his accomplishments to date.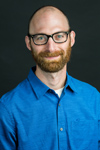 [Photo: Dr. Neal Goldstein]
The goal of the Health Disparities Research Institute is to provide participants with a broad overview of the leading issues facing minority health and health  disparities research and stimulate discussion of proposed research projects. Activities will include lectures, seminars, interactive sessions, and small group discussions with leading scientists and National Institutes of Health (NIH) staff.