Ms. Rachel Kelley, a graduate student in the UC Berkeley-UCSF Joint Medical Program, along with a community partnership at East Tennessee State University (ETSU) and the Migrant Clinicians Network (MCN), have developed a 70-page guide designed as a reference for clinicians serving tomato workers to identify, manage, and prevent work-related injuries and exposures.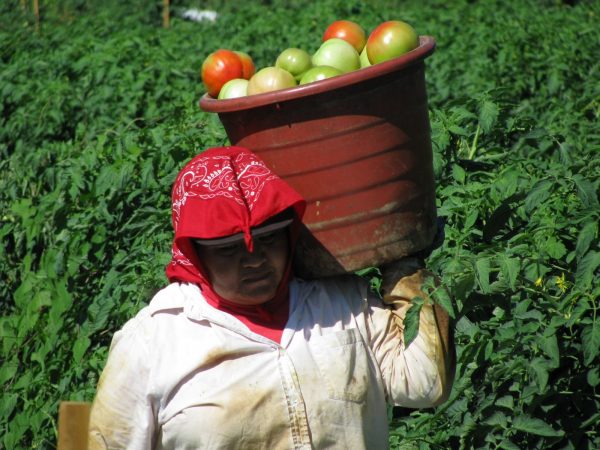 [Photo credit: Ms. Nicole Manz Young]
The tomato industry employs thousands of workers in California and the states of the Southeast, including Tennessee.  Tomato workers encounter numerous hazards.  Many of the workers are Spanish-speaking, health and safety information is not always accessible in a form that they can understand. The Tomato Workers' Health and Safety Guide, newly available in Spanish, is the result of months of work. Co-authors include the migrant clinic staff of Rural Medical Services (RMS), a federally-qualified health center in Parrottsville, TN.  RMS, ETSU and MCN have partnered on tomato worker issues for the last decade.
Ms. Kelley developed the guide based in part on two summer sojourns in east Tennessee, where she interviewed tomato workers and conducted focus groups, and volunteered for RMS.  She also performed an extensive literature review and conducted field research with workers in California's industry.  UCSF occupational physician, Dr. Robert Harrison, who helped guide Ms. Kelley's work, praised her "amazing leadership and dedication," in seeing the work through to completion.
The Migrant Clinicians Network's Environmental and Occupational Health Division reviewed the document extensively. Mr. Corey Johnson, communications and graphic designer, designed the guide. Ms. Alma Galván, MCN senior program manager, and Ms. Tania Salgado, MCN Health Network associate, completed the lengthy translation from English into Spanish.
Also available is a special supplement on farm worker health in El Nuevo Tennessean, a bilingual tabloid aimed at the region's growing Hispanic population, produced by ETSU's Language and Culture Resource Center.  "We needed to report back to the community on the many student-faculty projects since 2008," said Dr. Ken Silver, associate professor of environmental health.  "It's community-based research. As we distribute El Nuevo… we're asking workers, growers, health care providers and contractors, 'What's next?' for the partnership's activities."