Dr. Hadii Mamudu, associate professor in the department of health services management and policy in the East Tennessee State University College of Public Health, has co-authored an article in the American Journal of the Medical Sciences.  The article, "Geographic and Individual Correlates of Subclinical Atherosclerosis in an Asymptomatic Rural Appalachian Population," examines the risk for subclinical atherosclerosis, an established clinical marker of cardiovascular disease, among asymptomatic patients residing in Central Appalachia based on geographic-level factors.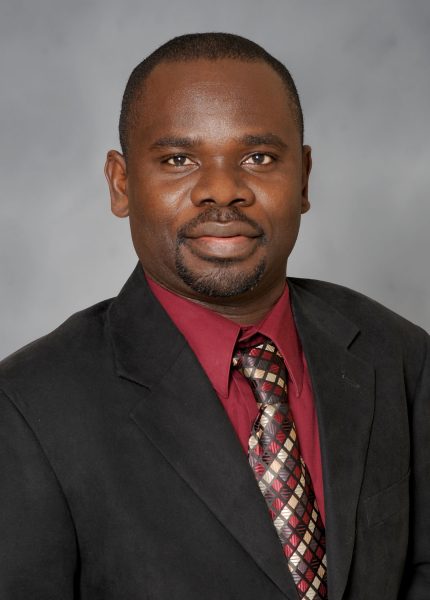 [Photo: Dr. Hadii Mamudu]
Co-authors include Drs. Liang Wang and Arsham Alamian, along with Pooja Subedi and Ali Alamin, of the ETSU College of Public Health.  Additional co-authors include Dr. Antwan Jones of George Washington University, Dr. Timir Paul of the Quillen College of Medicine, Dr. Gerald Blackwell of Wellmont CVA Heart Institute, and Dr. Matthew Budoff of the Los Angeles Biomedical Research Institute.
Cardiovascular diseases remain the leading cause of morbidity and mortality in the United States, accounting for one in three deaths and more than $300 billion in healthcare costs.  Coronary artery disease, the most common form of cardiovascular disease, accounts for one in six deaths.  The high prevalence of cardiovascular disease and its risk factors in the Central Appalachian region implies that outcomes are associated with social determinants and geographic or neighborhood factors.  The Central Appalachian region consists of underserved, distressed and at-risk population with a high level of poverty and unemployment, limited access to and utilization of health services, and higher healthcare costs.
The study population comprised of asymptomatic adults without prior history of cardiovascular disease or medications usage for cardiovascular risk factors from the Central Appalachian region of Northeast Tennessee, Western North Carolina, Southeast Kentucky and Southwest Virginia, who participated in coronary artery calcium screenings at the largest tertiary heart institute in the region between August 2012 and September 2016.
Of 1,512 participants, 57.6 percent had coronary artery calcium levels greater than zero. The prevalence of mild, moderate and severe plaques was 31.6 percent, 16.3 percent and 9.7 percent, respectively. Demographics (age and sex), medical conditions, lifestyle factors and family history of coronary artery disease were associated with increased risk for subclinical atherosclerosis. The results implied that the proportion of minority residents in a geographic area is associated with increased relative risk for subclinical atherosclerosis, while the proportion of residents on government assistance decreased such risk. However, future geographic or neighborhood-level studies with a larger sample size are needed to delineate further the consistency of these results in the Central Appalachian population.
The mission of The American Journal of the Medical Sciences is to support the exchange of knowledge and information and to publish high quality clinical, basic, and education research as the official Journal of the Southern Society for Clinical Investigation.