A group of faculty members and students at East Tennessee State University has discovered that a specific protein in the blood has the ability to reduce the severity of certain kinds of liver disease.  Several years ago, East Tennessee State University College of Public Health's Dr. Jonathan Peterson began researching the protein known as CTRP3 and its effect on non-alcoholic liver disease in terms of how it relates to diabetes and obesity issues. That research led to the discovery of CTRP3's protective effect on the liver and turned Dr. Peterson's focus to alcoholic liver disease.
"We wanted to see if it has the same effect with alcohol consumption, which is another way fat collects in the liver," said Dr. Peterson, a member of ETSU's Center of Excellence for Inflammation, Infectious Disease and Immunity. "Alcoholic fatty liver disease accounts for approximately 50 percent of cirrhosis cases, which is the 12th leading cause of death in the country."
Through the latest research, Dr. Peterson and his fellow researchers set out to identify the potential role of the protein as a therapeutic target to prevent and treat alcoholic fatty liver disease. Their work confirmed that CTRP3 is able to reduce the accumulation of triglycerides in the liver due to long-term alcohol consumption.  Currently, there are no pharmaceutical treatments to treat fatty liver disease, making this discovery a significant one that could have a major impact on lowering the mortality risk of liver disease.
In addition to Dr. Peterson, the research was conducted by ETSU faculty members in medicine, nutrition, biology and health sciences. Three undergraduate students and two master's level students were involved in the research as well. In May, their findings were published in the American Journal of Physiology-Endocrinology and Metabolism.  Now, the researchers will pursue additional grant funding to further test their findings in hopes that their efforts will eventually lead to clinical trials for patients.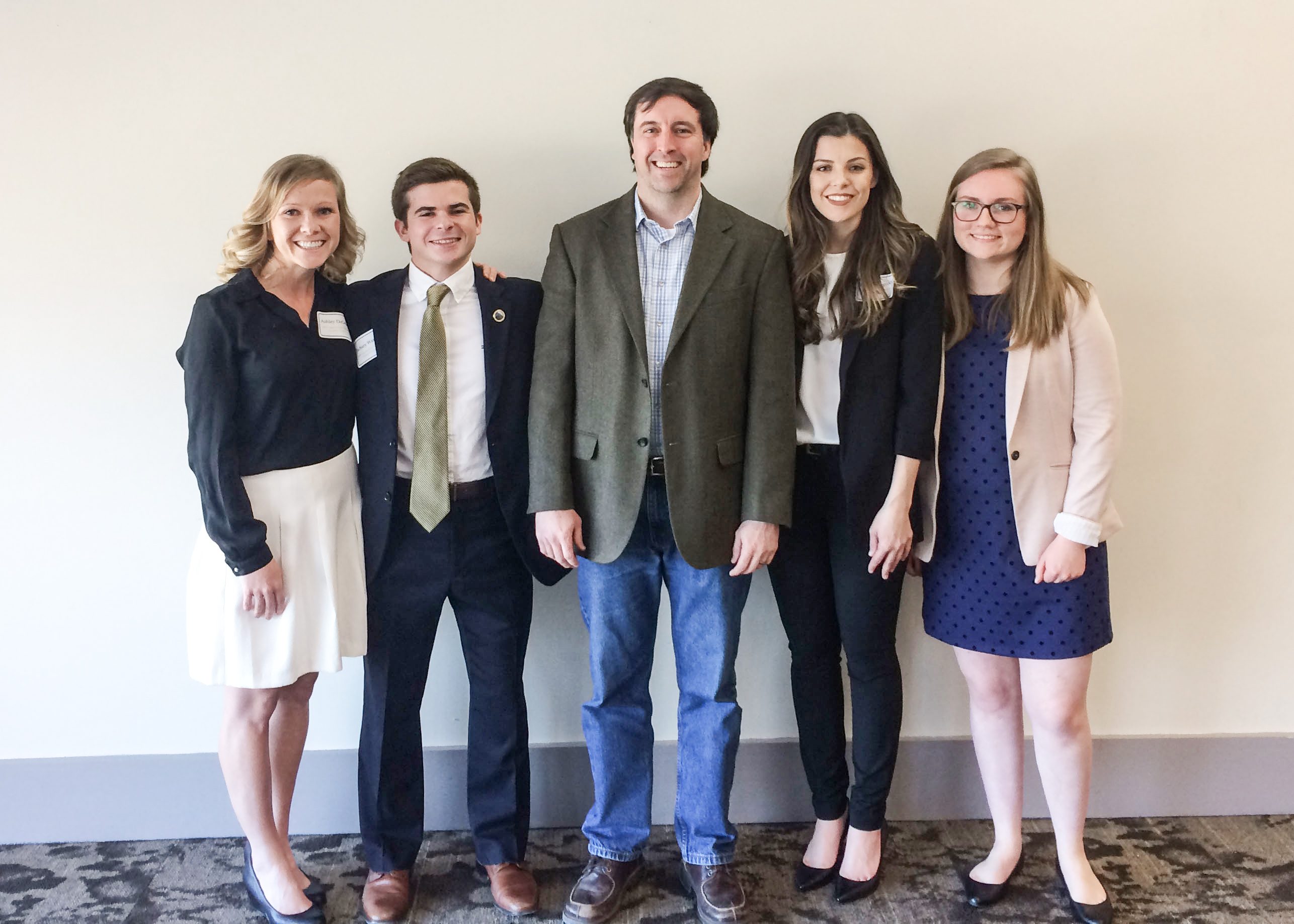 [Photo: Left to right: Graduate student Ms. Ashley Degroat, undergraduate student Mr. Zachary Warren, Dr. Jonathan Peterson, graduate student Ms. Kendra Hagood, and undergraduate student Ms. Greta Trogen.]