Dr. Damaris Albores-Garcia, a postdoctoral fellow at Florida International University Robert Stempel College of Public Health and Social Work, received two awards at last month's Society of Toxicology (SOT) 57th Annual Meeting in San Antonio, Texas.
Dr. Albores-Garcia is a member of Dr. Tomás R. Guilarte's Environmental Health Sciences (EHS) laboratory at Stempel College. She works closely with Dr. Guilarte, who also serves as dean of the college and professor in the Department of EHS, on advanced research efforts such as the report titled, "Developmental lead exposure sensitizes adolescent rats to cocaine: role of the dopaminergic system," which examines the exposure to environmental toxins during brain development.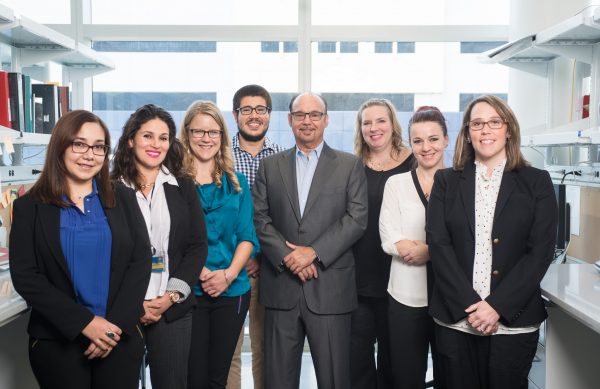 [Photo: Dr. Damaris Albores-Garcia (left) is pictured with Dr. Tomás R. Guilarte (center) and his Brain, Behavior and the Environment laboratory team]
Dr. Albores-Garcia's interest in this area of science stems from the realization that many diseases have complex origins, whereby environmental toxins can play a major role. She's committed to identifying how they influence the onset of mental diseases in order to intervene, stop or reverse the detrimental effects of exposure.
Furthermore, there are still approximately 500,000 American children with blood lead levels above the Centers for Disease Control's (CDC) reference level, despite efforts to diminish lead exposure.
She examines whether early-life lead exposure prompts sensitization to the psychostimulant effects of cocaine during early adolescence, given that adolescence is a high-risk period for new drug use.
The results suggest that early-life lead exposure could predispose drug use in early adolescence. It also emphasizes the importance of continuing efforts aimed to diminish lead exposure, as the report confirmed that there is no safe level of lead exposure.
Dr. Albores-Garcia received second place in "Metals SS Metals Postdoctoral Research Award," an honor granted by the Society of Toxicology's (SOT's) Metals Specialty Section that commends originality, creativity and the influence on the toxicology of metals.
She also received third place in the "Neurotoxicology SS Toshio Narahashi Postdoctoral Fellow/Associate Poster Competition Award," a two-part award based on the results of her investigation and her presentation skills.
"I'm so honored to receive these awards and the recognition for my work by such an outstanding scientific group," said Dr. Albores-Garcia.
Dr. Albores-Garcia has a biochemical engineering degree from Veracruz Institute of Technology, a master's degree in toxicology and a doctorate from the Center for Research and Advanced Studies of the National Polytechnic Institute in Mexico City, Mexico.
Prior to joining Dr. Guilarte's Stempel College lab in 2017, she worked as a manager of micro-PET (positron emission tomography) for small species at the National Autonomous University of Mexico. Her laboratory experience includes in vitro and in vivo research with a focus on the identification of molecular targets and the behavioral outcomes of environmentally relevant exposures.