Researchers at Florida International University (FIU) Robert Stempel College of Public Health and Social Work received $988,875 to conduct a three-year study on the role of the cholinergic system in manganese (Mn)-induced neurological dysfunction with an award from the National Institute of Environmental Health Sciences (NIEHS) of the National Institutes of Health (NIH).
Dr. Tomás R. Guilarte, dean of FIU's Stempel College and professor in the department of environmental health sciences, will serve as principal investigator and direct the ongoing research. The study's main goal is to determine the molecular and cellular mechanisms by which chronic exposure to Mn results in parkinsonism with dystonia and cognitive function deficits.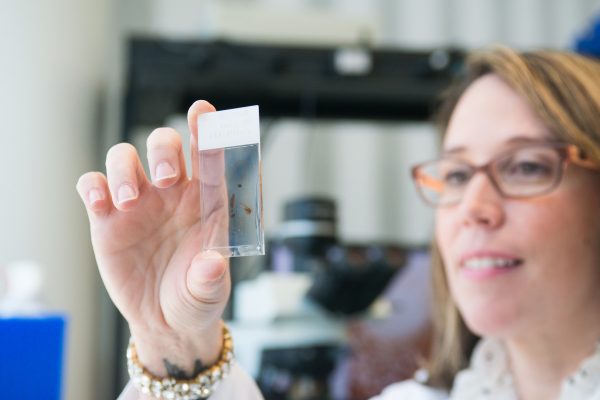 [Photo: Dr. Kalynda K. Gonzales]
Millions of miners, welders and smelters in the U.S., and around the world, are chronically exposed to fumes, particles and aerosols containing Mn on a regular basis. Moreover, genetic mutations, drinking water with high concentrations of Mn, and ephedron abuse can all produce distinct neurological symptoms of manganese-induced neurological disease, making them recognizable as significant causes of chronic Mn exposure to a large population. Consequently, the number of individuals exposed to neurotoxic levels of Mn are much higher than formerly established, generating a global public health problem.
Mn is a chemical element required by many different enzymes in the human body, performing a role in numerous chemical processes, including the synthesis of nutrients such as carbohydrates, proteins and cholesterol. However, when humans are exposed to high levels of Mn, it accumulates in the brain and produces neurological dysfunction. High levels of exposure to Mn result in deficits in postural stability and motor control, together with impairments in executive function and working memory.
Previous studies from Dr. Guilarte's laboratory have shown that there is a significant difference between idiopathic Parkinson's disease and Mn-induced parkinsonism, as the most effective parkinsonian drug treatment, levodopa, is not effective in alleviating Mn-induced motor symptoms and there is no apparent loss of midbrain dopaminergic neurons. This evidence indicates that parkinsonism in Mn-exposed individuals has a different pathophysiology than in idiopathic Parkinson' disease subjects. His work is now pointing to dysfunction or loss of cholinergic neurons, which have also been implicated in idiopathic Parkinson's disease and Alzheimer's disease.
"We are very excited to see what the research has in store," said Dr. Guilarte. "If the research proves that excess levels of Mn produces cholinergic neuron loss in brain regions relevant to Parkinson's and Alzheimer's disease, then we will be one step closer identifying environmental risk factors whose human exposures are preventable."
The study will be conducted using unbiased stereological cell counting, a method used to determine the total number of neurons in a specific brain region. The investigation will provide a more precise understanding of Mn-induced pathophysiology, which can result in the development of cholinergic based therapies for the treatment of Mn-induced neurological dysfunction.
Postdoctoral associate Dr. Kalynda K. Gonzales, who works alongside Dr. Guilarte in his "Brain, Behavior and the Environment" laboratory, commits her time to studying parkinsonism induced by drug exposure, environmental and occupational factors, in hopes of improving treatment methods.