The Center for Climate, Health, and the Global Environment (C-CHANGE) was officially launched May 30, 2018 at the Harvard T.H. Chan School of Public Health and its leadership announced a new collaboration between Harvard University and Google that will seek to reduce the use of harmful chemicals in building products and materials.
Led by director Ms. Gina McCarthy, former U.S. Environmental Protection Agency Administrator, and co-directors Dr. Joseph Allen and Dr. Aaron Bernstein, C-CHANGE is committed to transforming science into meaningful actions that will deliver a healthier, more just, and sustainable world. The Center will ensure that government officials, business leaders, and the public have access to the best science so they can understand the health and environmental challenges they face, why it matters to them, and how they can get engaged.
Many chemicals are placed in consumer products like furniture and carpets even though science has shown their potential for negative health effects. C-CHANGE, the Harvard Office for Sustainability, and Google will work together to develop a set of public tools and resources that use the latest scientific research to inform decision-making by large institutions, purchasers, and manufacturers to help transform the marketplace to healthier alternatives. The collaboration aims to improve public health and the well-being of communities, reduce the use of harmful chemicals, and leverage lessons learned to create a model that can be replicated by other organizations.
There are more than 80,000 chemicals in use today, many of which are associated with long-term problems for our health and the environment. A key component of C-CHANGE's mission is to reduce the use of these chemicals and influence purchasing practices. The C-CHANGE team collaborated with the Office for Sustainability to pilot and prove healthier products in over 25 capital projects across campus before updating University-wide Green Building Standards to eliminate certain classes of harmful chemicals. Moving forward, the two groups will continue partnering with Harvard's schools to use the campus as a living lab to test new ideas and verify performance.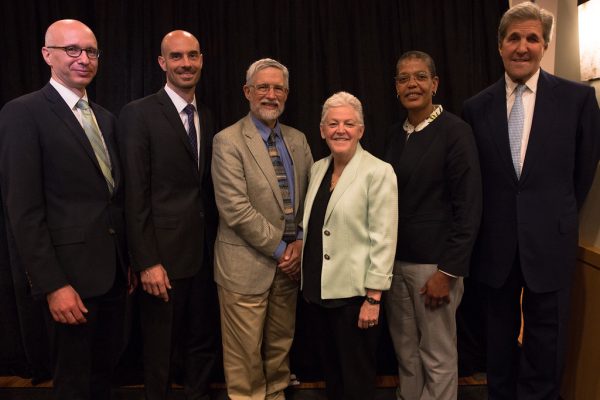 [Photo: Dr. Aaron Bernstein, Dr. Joseph Allen, Dr. John Holdren, Ms. Gina McCarthy, Ms. Michelle Williams, and Mr. John Kerry at the C-CHANGE launch.]