Dr. David Low, former president of The University of Texas Health Science Center at Houston (UTHealth), passed away Friday, June 15, 2018, at age 83. Dr. Low served the university as president from 1989 to 2000 and was professor emeritus at University of Texas School of Public Health from 2004 until his death.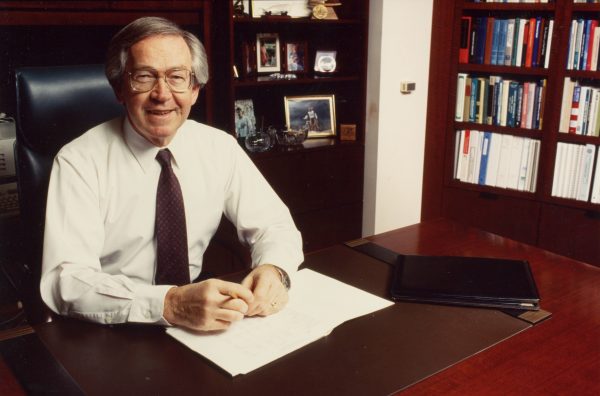 [Photo: Dr. David Low]
"David, though he will always be 'President Low' to me, was a unique combination of compassion and erudition; an accomplished physician- scientist who personified collaboration as president. A true public health visionary, he will always be remembered as a leader of the preventive medicine movement," said Mr. Kevin Dillon, UTHealth senior executive vice president, chief operating and financial officer.
Educated in Canada and the United States, and with professional work experience in three countries, Dr. Low brought a broad perspective to his role as president of the university. He began his professional career as a physician-scientist in the field of clinical neurophysiology at Baylor College of Medicine and the University of British Columbia. His work in research and clinical use of computers, data analysis and telecommunications received international recognition.
"Dr. Low was ahead of his time in understanding the importance of population health and prevention for the long-term viability of health care in the United States," said Dr. Eric Boerwinkle, dean and M. David Low Chair in Public Health, UTHealth School of Public Health. "He was a strong advocate for establishing bridges between the School of Public Health and McGovern Medical School as an important catalyst of growth and excellence for all of UTHealth. My sympathies go out to his lovely family, but we can all take solace in his public health messages carrying on."
Dr. Low was instrumental in the nationwide initiative to reunite the fields of medicine and public health, drawing participation and praise from Secretary General of the World Health Organization and the Secretary of Health and Human Services of the United States.
In his addition to his role as president of UTHealth, he taught at the university's Medical School, School of Public Health and what is now known as UTHealth School of Biomedical Informatics. He also directed the university's Institute for Health Policy, now part of the School of Public Health, working with academic leaders across the country on issues in health economics and health care delivery.
Dr. Low is survived by his wife, Barbara, daughters, Cecilia, Sarah and Kelsey, his son, Peter, seven grandchildren and many extended family members. To learn more about Dr. Low's life, read the obituary provided by his family.
In memoriam: M. David Low
The following is the obituary provided by the family of M. David Low
David Low, MD, CM, MSc (Med), PhD, FRCP(C), age 83, died peacefully after a lengthy illness and stroke, facing the ocean and mountains at sunrise with his beloved Westie snuggled beside him, on June 15, 2018, surrounded by family and friends in his home in Nanoose Bay, on Vancouver Island, British Columbia.
Born in Lethbridge, Alberta, on March 25, 1935, David was one of eight children of Alice Fern Litchfield and Solon Earl Low. He earned his medical degree from Queen's University in Kingston, Ontario, and graduate research degrees in neuroscience from Queen's and also Baylor College of Medicine in Houston, Texas.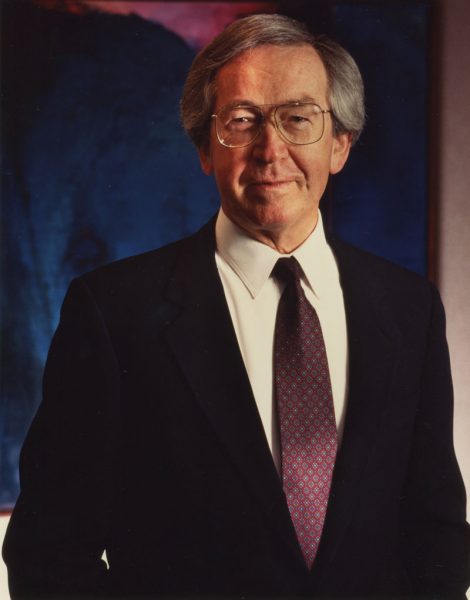 [Photo: Dr. David Low]
An avid researcher, he was fascinated by human cognition, memory, and consciousness. His career spanned six decades, encompassing science, medicine, engineering, teaching, administrative leadership, and humanitarian causes in many countries. His work with computer applications in brain research won him the Senior Medical Scientist Award of the Medical Research Council of Canada and Inserm of France.
During his training in Houston, he conducted brain research on NASA astronauts in the 1960s then returned two decades later when he served for 11 years as president of The University of Texas Health Science Center at Houston (UTHealth), having previously served as the coordinator of health sciences at the University of British Columbia's John F. McCreary Health Sciences Centre. He built biomedical research institutes in Canada and the USA, directing one of them.
He loved teaching and mentoring young people of all ages, working with a postdoctoral fellow until the time of his death to co-author a health policy paper for publication, as well as a presentation at a major public health conference. He has written 275 papers, books, chapters, and lectures or presentations by invitation. His recent research interests included the social, economic, and environmental determinants of health, with particular focus on the key role of education in health.
An internationally recognized health policy analyst and interpreter, David advised the governments of Alberta, British Columbia, Texas, New Mexico, Oregon, Missouri, and Arkansas on health policy. He gave invited testimony on health policy and health care system reform before many state and provincial commissions, congressional committees, and the U.S. White House. From 2005 to 2007, he was a special advisor on public health to the president of the University of Calgary. He was professor emeritus at The University of Texas Health Science Center at Houston (UTHealth) School of Public Health in Houston from 2004 until his death.
David was a founding member of the board of the Episcopal Health Charities, a foundation with the mission of working at the community level to improve the health of the nearly seven million people who live in the Episcopal Diocese of Texas. His recognitions and honors include the Award of Excellence in Health Services from the Government of British Columbia; two Resolutions of Commendation from the Senate of the State of Texas; the Distinguished Leadership Award of the Association of Academic Health Centers; the Bronze Quill Award of the National Association of Business Communicators; the Tree of Life Award from the Jewish National Fund; the Caring Spirit Award of the Houston Institute of Religion; and a Resolution of Commendation from the Mayor and City Council of Houston.
Early in his scientific career, the U.S. Secretary of State declared his work in human cognition "essential to the national welfare" at the request of NASA in Houston. Dr. M. David Low's biography appears in a dozen biographical publications including the 2017 Who's Who Lifetime Achievement Award, Who's Who in the World, Who's Who in Science and Engineering, Who's Who in America, Who's Who in Medicine and Health Care, Who's Who in American Education, Men of Achievement, and Men and Women of Distinction.
He is survived by his wife, Barbara, of Nanoose Bay; daughters, Cecilia Low (Barrie Wright) of Calgary, AB; Sarah Low (Richard Parr) of Vashon Island, WA; and Kelsey Low (Christopher Paiz) of Sugar Land, Texas; and by his son, Peter Low (Mia Perry) of Glasgow, Scotland; as well as his brothers Ken Low (Janice Low) of Calgary; and Eric Low of Lethbridge; sister-in-law Jeanne Low of Coaldale, AB; brother-in-law Laurie Liberty (Mary Margaret) of Ottawa; seven grandchildren (Cecil, Michael, Zachary, Josh, Aaron, Eddie, and Keziah); and many dear nephews, nieces, cousins, and godchildren. He loved them all so very much.
He was predeceased by his sisters Lorna Western and Jessie (Marion) Swain of Utah, Sharon Williams of Vancouver and Raymond, AB, and Carol (Laurie) Liberty of Ottawa, ON, as well as his big brother LeRon (Jeanne) Low of Coaldale, AB.
His avocations included writing, thinking deep thoughts to share with keen minds, cooking, sailing, skiing, ocean racing, car rallying, flying small planes, sea-kayaking, hiking, travel, art, politics, health policy, history, archaeology, and photography. He lived an extraordinary life as a gentle man, athlete, innovator, scholar, teacher, doctor, researcher, and family man.
Life celebrations will be held for numerous groups of family, friends, colleagues, and students around the world. His final resting place will be the Cardston Cemetery near his family in Cardston, Alberta. Donations may be made to the Heart and Stroke Foundation.