The George Mason University College of Health and Human Services (CHHS) announced today that its Bachelor of Science (BS) in community health has been accredited by the Council on Education for Public Health (CEPH). With this announcement, the College's CEPH-accredited program of public health now includes its existing Master of Public Health (MPH) with seven highly specialized concentrations in addition to the newly accredited BS.  Mason is the first and only academic institution in the Commonwealth of Virginia to offer a CEPH-accredited undergraduate degree program.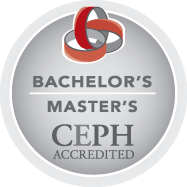 "This additional accreditation by CEPH demonstrates George Mason University's commitment to providing high quality public degree health programs that prepare undergraduate and graduate students with the foundational public health knowledge, competencies, and specialized skills required to address the most pressing and emerging public health problems here in Virginia and beyond," said Dr. Robert M. Weiler, chair of the department of global and community health (GCH).
GCH prepares students for careers in community and public health, epidemiology, global health, health policy, public health communication and practice.  The College has graduate approximately 1,800 students in the past decade with a current enrollment of more than 700 students. GCH programs offer students small class sizes and access to world-class faculty — all within close proximity to the world's leading public health agencies and organizations. GCH also offers a Master of Science in global health.
"Our programs are designed to develop the next generation of public health practitioners, researchers, and leaders — those who want to not only participate in a national dialogue about population and global health — but to help shape it. In keeping with a Mason education, our students are career-ready and graduate with real-world experience that  they can apply immediately to a variety of high-impact careers," said Dr. Weiler.
The accreditation process includes a multi-level review to ensure the program meets the nationally recognized standards developed by public health academics and practitioners. Curriculum is aligned to the current workforce and public health needs so that students graduate well-prepared for a fulfilling career.
CEPH reports that the practical implications of earning a public health degree from an accredited program include consideration for select opportunities that may only be open to graduates from accredited programs such as employment, fellowships, and advanced credentials.
The CHHS department of global and community health accepts student applications for degree programs throughout the year, depending on the program. Applications for graduate programs are due March 1 to begin the following fall semester, and undergraduate applications follow the George Mason University calendar.  The Department also participates in public health admissions fairs and information sessions throughout the year. Those interested in more information can contact Kelly Ms. Beckwith, MPH program coordinator, at kbeckwi2@gmu.edu.