Homelessness and alcohol use make it more likely for youth living in the slums of Kampala, Uganda, to also have experience with violence, according to a study led by a researcher at the Georgia State University School of Public Health.
And that experience with violence is likely to be as both perpetrator and victim, the study found. For instance, slum youth who use alcohol may find themselves in fights to protect themselves or their property.
Previous studies have shown that youth living in poor areas of sub-Saharan Africa are at high risk for alcohol use and violence. Still, the researchers noted that data on youth alcohol use and alcohol-related violence among vulnerable populations remains scarce in sub-Saharan Africa and specifically in Uganda.
"Scientific understanding of how these factors are related in the lives of homeless youth remains limited," they said. "As such, it is important to determine the extent to which a history of homelessness may be a risk factor for alcohol-related violence."
The researchers suggested that interventions for this population "should focus on delaying and reducing alcohol use."
The study surveyed 346 slum youth in 2014 who regularly visited drop-in centers managed by the Uganda Youth Development Link (UYDEL), a nongovernmental organization that works with youth ages 10 to 24 who are vulnerable to exploitation and HIV/AIDS infection, and who reported current alcohol consumption. In this study, slums are defined as areas lacking government planning and infrastructure that leads to overcrowding, a dearth of social services, and poor environmental, social and economic conditions.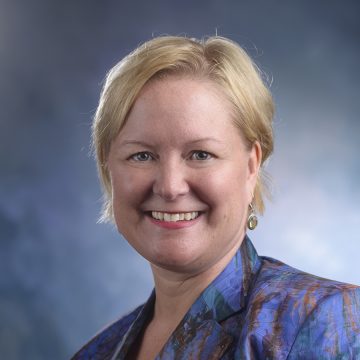 [Photo: Dr. Monica Swahn]
The results of the study are published in the International Journal of Environmental Research and Public Health in the article "Problem Drinking, Alcohol-Related Violence, and Homelessness among Youth Living in the Slums of Kampala, Uganda." The study's lead author is Dr. Monica Swahn, distinguished university professor of epidemiology and biostatistics at Georgia State.
The study found that nearly 46 percent of the slum youth who consumed alcohol were involved in alcohol-related violence. Problem drinkers — those who engaged in frequent and heavy drinking — were more likely to report getting in an accident, being a victim of robbery, going to a hospital, and having serious problems with parents and friends.
"Our previous research has demonstrated that alcohol use is more common among those who have been physically abused and that parental alcohol use was highly associated with physical abuse as well as parental partner abuse," the researchers said. "As such, it is not surprising that those youths who reported alcohol-related violence were also more likely to report parental alcohol use and prior childhood abuse."
The study's authors also included Dr. Eric Wright, distinguished university professor of sociology and public health at Georgia State, Ms. Rachel Culbreth, a PhD student in Georgia State's School of Public Health; Dr. Nazarius Mbona Tumwesigye with Makerere University in Uganda; Dr. Volkan Topalli, professor of criminal justice at Georgia State; and Mr. Rogers Kasirye with UYDEL. Dr. Swahn is also a Fulbright scholar at Makerere University.