Warning labels with large text or photos on cigarette packs may help smokers develop a more accurate understanding of the health effects of smoking, especially the shortened life expectancy for smokers, according to a recent study led by a researcher at Georgia State University School of Public Health.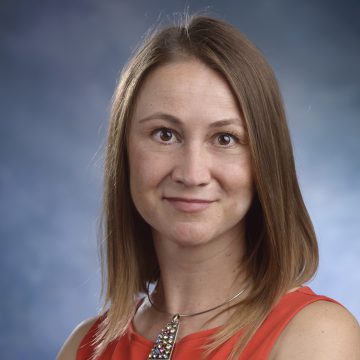 [Photo: Dr. Lucy Popova]
"Smoking kills 480,000 people in the United States every year, with smokers on average losing 10 years of life," the authors stated. "Yet, smokers underestimate the health risks of smoking."
To test what kinds of cigarette labels give smokers more accurate understanding of the effects of smoking on life span, researchers conducted an online study with 1,200 American smokers age 18 to 62 years old. The smokers were sorted into three groups. One group viewed cigarette pack warning labels with large text only and the second group viewed packs with a picture that included a message in large text. The third group was the control, and its participants viewed water bottle labels. After viewing the labels, the smokers answered questions about how long they expect to live.
The results of the study are published in the American Journal of Health Behavior in the article "Effects of Large Cigarette Warning Labels on Smokers' Expected Longevity." The study's lead author is Dr. Lucy Popova, assistant professor of health promotion and behavior at Georgia State.
Smokers who viewed cigarette labels that included large text and image warnings reported the greatest reduction in their expected longevity and a lesser overall chance of living to age 75.
"In this study, brief one-time exposure to both large text and pictorial warning labels similarly reduced smokers' expected longevity by about two years and estimated likelihood of living to age 75 by 4 percent, compared to control," the researchers said. "Our results suggest that these warning labels increase understanding of the effects of smoking on these concretely measurable outcomes."
The study's authors also included researchers with Johns Hopkins University and the University of California, San Francisco.