Increased levels of air pollution have been linked to signs of cardiovascular risk among Puerto Ricans living in Massachusetts, according to a team of researchers led by faculty at Georgia State University School of Public Health.
"Puerto Ricans make up the second largest Hispanic subgroup in the U.S., after Mexican Americans, and are at increased cardiovascular risk compared to the American population at large, as well as other Hispanic groups," the researchers said. Because of the way air pollution and cardiovascular disease together are detrimental to health, it is important to study their impact on vulnerable populations, they added.
The study used air quality data from a monitor located on a sixth-floor rooftop in Boston, within about 6.5 miles of the study's participants. The analysis is based on health data from nearly 1,500 participants in the Boston Puerto Rican Health Study (BPRHS). That study recruited and tracked health measurements of Puerto Rican adults between the ages of 45 and 75 who lived in the Boston metropolitan area from 2004 to 2015.
One of the health markers measured in the study was C-reactive protein, which indicates inflammation in the body. High levels of C-reactive protein in the blood has been linked to heart disease and other ailments.
The data showed that an increase in the concentration of particulate matter in the air was associated with increased levels of C-reactive protein among the study participants. For instance, a three-day increase in particle number concentration was associated with a 7.1 percent increase in C-reactive protein, according to the study.
The study's results are published in the journal Environmental Research in the article "Short- and medium-term associations of particle number concentration with cardiovascular markers in a Puerto Rican cohort." The study's lead author is Dr. Christina H. Fuller, assistant professor of environmental health at Georgia State University.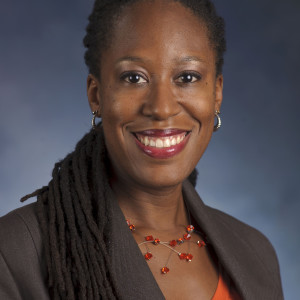 [Photo: Dr. Christina Fuller]
The study noted that increases in C-reactive protein during times of higher air pollution were greater among participants who were women, current and former smokers, and people younger than 65.
"Our study broadens the knowledge of the field by adding evidence of health effects of particle number concentration on cardiovascular risk indicators in a population that is understudied and may be particularly vulnerable," the researchers said. "Special attention should be paid to exploring potential sex or gender-linked differences in associations between ambient particulate matter and cardiovascular outcomes."
The study's authors also include Dr. Marie S. O'Neill with University of Michigan, Dr. Jeremy A. Sarnat and Dr. Howard H. Chang with Emory University, Dr. Doug Brugge with Tufts University and the principal investigator of the BPRHS, Dr. Katherine L. Tucker with University of Massachusetts Lowell.