Two professors, eight distinguished alumni, and 42 students from the George Washington University Milken Institute School of Public Health (Milken Institute SPH) were inducted into the Delta Omega Honor Society.
Founded in 1924, Delta Omega honors excellence in research and scholarship among graduate students and professionals in the field of public health. The organization has over 100 active chapters throughout the United States and more than 20,000 members. The Omega chapter of Delta Omega was established at Milken Institute SPH in 1995 and has inducted over 500 members. Members of Delta Omega are committed to advancing and protecting the health of all people and excellence in the field of public health. For students, election to the society is based on outstanding scholarship.
The two professors inducted were Dr. Lance Price, professor and director of Milken Institute SPH's Antibiotic Resistance Action Center, and Dr. Peter LaPuma, associate professor of environmental and occupational health at Milken Institute SPH.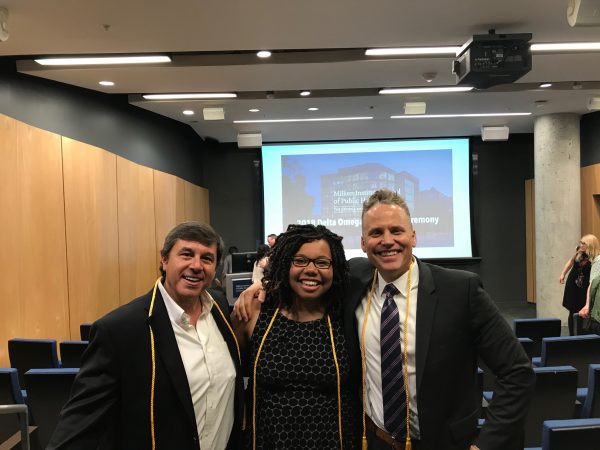 [Photo: Associate professor, Dr. Peter LaPuma, environmental health science and policy MPH student Ms. Briana VanNoy, and Dr. Lance Price, professor.]
Full list of Omega chapter inductees