The Milken Institute Global Conference, held in May in Beverly Hills, California, is an annual forum on social, economic and health issues that brings together leading experts from the United States and around the world.
Dr. Lynn R. Goldman, the Michael and Lori Milken Dean of GW's Milken Institute School of Public Health (Milken Institute SPH), and Dr. Kathleen Merrigan, GW's Executive Director of Sustainability, participated in public health sessions at the conference.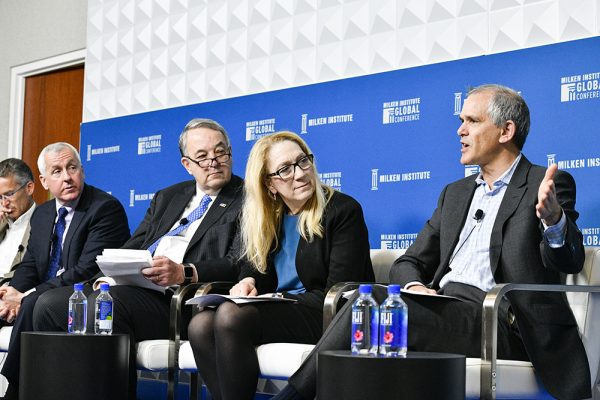 [Photo: Dean Lynn Goldman]
Dean Goldman participated in a panel about tackling the worldwide crisis in chronic disease and obesity. She highlighted the Sumner M. Redstone Global Center for Prevention and Wellness at Milken Institute SPH and its ongoing work to build resilience in children who face adverse conditions that can cause stress and chronic disease.
Dean Goldman also moderated a session about providing access to mental health care among the millennial generation.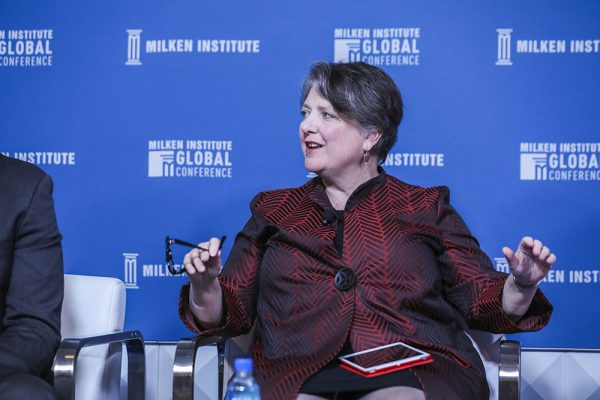 [Photo: Dr. Kathleen Merrigan]
Dr. Merrigan moderated a panel called "Meat and More: The Future of Protein," discussing how public health experts can help design a sustainable diet that feeds the world's growing population and minimizes greenhouse gas emissions.
All programs from the 2018 Milken Institute Global Conference can be viewed here.