Dr. Olga Acosta Price,  an associate professor of Prevention and Community Health in the George Washington University Milken Institute School of Public Health (Milken Institute SPH), has received the 2018 Martin C. Ushkow Community Service Award from the American Academy of Pediatrics (AAP).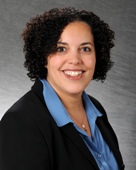 [Photo: Dr. Olga Acosta Price]
The prestigious award honors school health-related professional that has contributed to the promotion of comprehensive school health programming or been active in promoting health profession education in school health.
Dr. Acosta Price is also director of the Center for Health and Health Care in Schools at Milken Institute SPH, a national resource and technical assistance center committed to building effective school health programs. A clinical psychologist, Dr. Acosta Price advises government officials and education leaders on how to build capacity to address the mental health needs of children, provide integrated, cost-effective and high-quality health programs in schools, train professionals in best practices in school health, and inform decision-makers on alternative approaches in school-based health care.
Dr. Acosta Price will be recognized at the 2018 AAP National Conference & Exhibition in Orlando, Florida, on Nov. 3.