Dr. Kathleen Janz of the University of Iowa departments of health and human physiology and epidemiology, served as one of 17 members of the ad hoc committee tasked with updating federal guidelines on physical activity.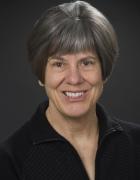 [Photo: Dr. Kathleen Janz]
The U.S. Department of Health and Human Services (HHS) released the 2018 Physical Activity Guidelines Advisory Committee Scientific Report on March 2.
The committee's report builds on and significantly expands the scientific evidence summarized in the first federal Physical Activity Guidelines Advisory Committee Report (2008).
The report, available online, describes findings from the Advisory Committee's systematic review of the scientific evidence on physical activity, fitness, and health, and will help inform the next edition of the Physical Activity Guidelines for Americans. It provides a detailed summary of the disease prevention and health promotion benefits of a more physically active America that is firmly established by the latest scientific evidence.
"The U.S. Department of Health and Human Services is grateful to Dr. Kathleen Janz and all the members of the Physical Activity Guidelines Advisory Committee for their dedicated service and thorough review of the current science on the connections between physical activity and health," said Dr. Don Wright, deputy assistant secretary for Health. "HHS will review the committee's Scientific Report, as well as comments from the public and federal agencies, as it is developing the next edition of the Physical Activity Guidelines for Americans."