Dr. Linda Snetselaar, University of Iowa professor of epidemiology and chair of preventive nutrition education, was one of eight registered dietitian nutritionists presented with the Academy of Nutrition and Dietetics' prestigious 2018 Medallion Awards on Oct. 21 during the Academy's Food & Nutrition Conference & Expo in Washington, DC. The awards recognize outstanding service and leadership in the Academy and the nutrition and dietetics profession.
Dr. Snetselaar is the director of the department of epidemiology's Nutrition Center at the University of Iowa College of Public Health and editor-in-chief of the Journal of the Academy of Nutrition and Dietetics. She is also the University of Iowa associate provost for outreach and engagement.
The Academy of Nutrition and Dietetics' Medallion Awards, given each year since 1976, honor Academy members who have shown dedication to the high standards of the nutrition and dietetics profession through active participation, leadership and devotion to serving others in nutrition and dietetics, as well as allied health fields.
A Medallion Award recipient has contributed exceptional service to the Academy at the national, state, district and Academy group levels, as well as to other food and nutrition organizations. The recipient has exhibited outstanding professional leadership abilities at all levels of the profession and the community, acting as a source of inspiration and role model while promoting registered dietitian nutritionists; nutrition and dietetics technicians, registered; and food and nutrition.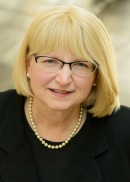 [Photo: Dr. Linda Stetselaar]