A new guide for health care providers is designed to help them reduce their patients' exposure to radioactive radon gas, the leading environmental cause of cancer mortality in the United States, which is estimated to cause about 21,100 lung cancer deaths per year.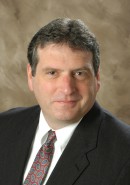 [Photo: Dr. William Field]
The guide, Reducing the Risk From Radon: Information and Interventions, was developed and drafted by University of Iowa College of Public Health professor of occupational and environmental health and epidemiology, Dr. William Field in collaboration with the Conference of Radiation Control Program Directors and the U.S. Environmental Protection Agency (EPA).
"Health care providers play a key role in reducing their patients' exposure to unnecessary radiation," the report states. "With the rate of medical imaging and related radiation exposure increasing, it is even more crucial to reduce radiation exposure from other sources, including radon."
The guide has updated information on:
Radon statistics and public health impact.
The science behind risk estimates.
Radon testing and reduction.
Sample guidance for use in health care settings.
The role of health care providers in reducing the burden of radon-induced lung cancer.