The University of Iowa College of Public Health inducted 27 new members into the Delta Omega Honorary Society in Public Health on May 1, 2017.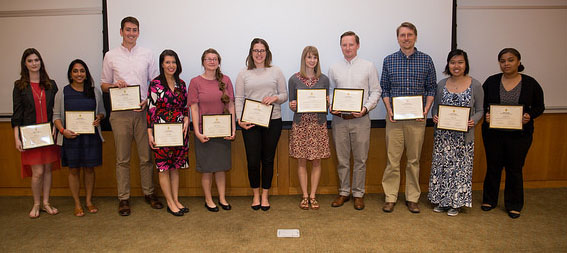 [Photo: Iowa Delta Omega Student Inductees]
The Delta Omega Honorary Society in Public Health was founded in 1924 at Johns Hopkins University within the School of Hygiene and Public Health (now known as the Bloomberg School of Public Health). Membership in Delta Omega reflects the dedication of an individual to increasing the quality of the field, as well as to the protection and advancement of the health of all people. Currently, Delta Omega has expanded to more than 100 chapters throughout the world and has more than 20,000 members from top echelons of graduate schools and programs of public health, as well as the public health community.
Students inductees are Shaunae Alex, MS; Vanessa Au, MS; Matthew Bergs, MHA/JD; Michael Brumm, MS;  Joshua Fine, MPH/DVM; Trevor Funari, MPH; Amanda Janson, MPH/MAT; Christine Kava, MA, PhD;  Nora Kopping, MHA; Chasity McCue, MS; Sara Miller, MPH; Brian Paul, MPH; Cortney Penick, MHA; Maya Ramaswamy, ME, PhD; Sarah Strack, MPH; and David Zahrieh, PhD.
Faculty inductees are Dr. Michael Jones, professor of biostatistics and Dr. Anne Helene Skinstad, clinical associate professor of community and behavioral health.
Alumni and honorary inductees are Kaitlin Emrich, Dwight Ferguson, Eric Foster, Hunter Harig, Trisha Kreman, Saloni Nayar, Kelli Todd ,and John VanBuren.
Honorary inductee is Dr. Leana Wen, Commissioner of Health for the City of Baltimore.