The University of Iowa is partnering with Iowa State University in a new national institute that will address the global public health concern of antimicrobial resistance.
Iowa State will be home to the new Institute for Antimicrobial Resistance (AMR) Research and Education, aimed at improving health for people, animals and the environment. The University of Iowa Center for Emerging Infectious Diseases — housed in the College of Public Health — is a part of the initiative. Dr. Christine Petersen, associate professor of epidemiology and director of the Center for Emerging Infectious Diseases, will serve as a co-director of the new institute and will coordinate involvement of participants from the College of Public Health and Carver College of Medicine.
"This new institute will provide a platform for a coalition of scientists from across our agricultural region to consider antimicrobial resistance and stewardship across all partners in health," says Dr. Petersen. "With this new center we will be able to openly discuss the root causes of AMR and the best ways to protect ourselves, our pets and our livestock from disease while also ensuring effective antibiotics for our future."
Each year in the U.S., at least 2 million people become infected with bacteria resistant to antibiotics, and 23,000 people die as a direct result of these infections. Many more die from other conditions complicated by an antibiotic-resistant infection, according to the Centers for Disease Control and Prevention. These drug-resistant "superbugs" also harm the ecosystem and cost multibillions of dollars annually in medical costs and economic losses.
The institute stems from recommendations made by a joint task force of the Association of Public and Land-Grant Universities and the Association of American Veterinary Medical Colleges in 2015, outlining an array of research and education initiatives to address antimicrobial resistance. The institute will help coordinate and implement those recommendations at universities and veterinary medical colleges across the country.
Other institutions involved in the initiative include the University of Nebraska-Lincoln and the Mayo Clinic.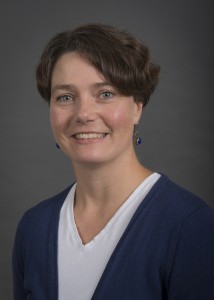 [Photo: Dr. Christine Petersen]