On November 2, a team representing the University of Iowa College of Public Health department of health management and policy won first place at the University of Kansas Case Competition for First Year Track Students in Kansas City .
Team members were Mr. Coleman Heaney, Ms. Alex Smolik, Mr. Benjamin Meyer, and Ms. Mary Kate Titus.
"I am extremely proud of our students, our MHA program, health management and policy department, and our college," says Dr. Dan Gentry, clinical professor of health management and policy, director of the UI Master of Health Administration (MHA) program, and the team's faculty mentor.
The first year track competition consisted of nine teams from schools accredited by the Commission on the Accreditation of Healthcare Management Education (CAHME).
A second team of first-year students from the University of Iowa also competed and finished in the top three.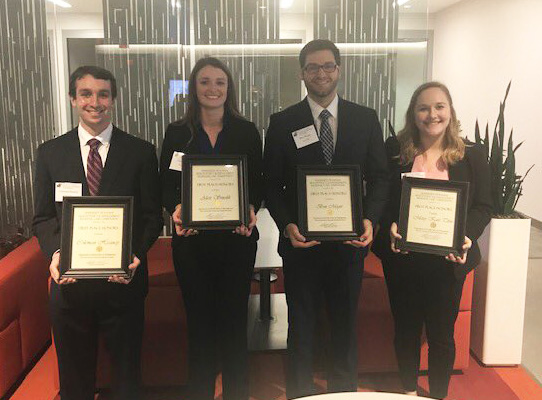 (Photo: (L to R) Mr. Coleman Heaney, Ms. Alex Smolik, Mr. Benjamin Meyer, and Ms. Mary Kate Titus)