U.S. adults with a diet high in trans fatty acids are more than twice as likely to develop type 2 diabetes than adults with a diet low in trans fatty acids, according to findings published in the Journal of Diabetes.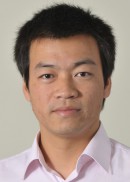 [Photo: Dr. Wei Bao]
"Higher plasma concentrations of trans fatty acids, an objective marker of trans fatty acid intake, are associated with insulin resistance and diabetes in U.S. adults," Dr. Wei Bao, assistant professor of epidemiology at the University of Iowa College of Public Health, told Endocrine Today. "Reducing trans fatty acids intake may improve glucose metabolism and lower the risk of diabetes."
Dr. Bao and colleagues analyzed data from 3,801 adults participating in the 1999 – 2000 and 2009 – 2010 cycles of the National Health and Nutrition Examination Survey (mean age, 50 years; 48 percent men). Researchers assessed available data on total and individual trans fatty acid concentrations, including palmitelaidic acid, elaidic acid, vaccenic acid and linoelaidic acid, as well as information on self-reported diabetes status, fasting plasma glucose and HbA1c.