A new University of Iowa research project will analyze the impact of a largely unstudied policy lever – changes in minimum wages – on child health and development.
The research, a two-year project led by principal investigators Dr. George Wehby, professor of health management and policy at the University of Iowa College of Public Health, and Dr. Robert Kaestner, research professor at the University of Chicago Harris School of Public Policy and their colleague Dr. Dhaval Dave, professor of economics at Bentley University, is funded by the Robert Wood Johnson Foundation (RWJF).
"Despite efforts to rigorously analyze various effects of changes to minimum wages, the link to child development is not well understood," noted Dr. Wehby. "If the minimum wage has significant, positive effects on child development, it would be an important strategy to improve children's well-being and diminish socioeconomic disparities in child development."
Using data from multiple national datasets, the researchers will investigate two primary questions:
The effects of the minimum wage on child development, including physical and mental health, socioemotional development, cognition, and standardized test scores. The researchers will assess the effects of the minimum wage at different stages of childhood and examine both long- and short-term effects of minimum wage changes.
The effects of the minimum wage on several potential mechanisms linking the minimum wage to child outcomes including family income, parental health and health behaviors, parental time use (employment and time spent with child), family health insurance coverage, child's use of health care services, school choices (private v. public), and residential stability.
The current federal minimum wage is $7.25 per hour. As of January 2019, there are 29 states and the District of Columbia that have a minimum wage higher than the federal minimum wage. In Iowa and 20 other states the minimum wage is $7.25.
Until recently, research on the effects of minimum wages has mostly focused on economic concerns, such as poverty and unemployment, but interest in possible health impacts is growing. Previous research by Drs. Wehby, Kaestner, and others has suggested that increasing the minimum wage would lead to an increase in birthweight among babies born to women with low education.
The new project is part of RWJF's Policies for Action (P4A) signature research program, which supports innovative transdisciplinary research about how policies, laws, and other system and community levers in the public and private sectors can support RWJF's vision of building a Culture of Health in this country. P4A is building an actionable evidence base to inform legislators and other policymakers, public agencies, community leaders, and others developing policies to improve population health and promote equity.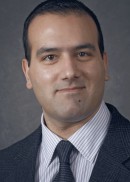 [Photo: Dr. George Wehby]