Founding dean of the Indiana University Richard M. Fairbanks School of Public Health at IUPUI, Dr. Paul K. Halverson, has been appointed by the National Academies of Sciences, Engineering, and Medicine to the ad hoc committee that will conduct the study, "Evidence-Based Practices for Public Health Emergency Preparedness and Response: Assessment and Recommendations of the Field."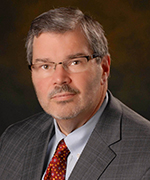 [Photo: Dean Paul K. Halverson]
Convened by the academies' Health and Medicine Division, the committee will conduct a comprehensive review and grading of existing evidence for public health emergency preparedness and response practices generated since September 11, 2001. This comprehensive review will meet the Centers for Disease Control and Prevention's and the nation's longstanding need for a systematic review comparable to those used in preventive medicine or other public health fields.
Dean Halverson attended the first committee meeting, a two-day event, held in Washington, DC, where attendees were welcomed, introduced, and oriented to the National Academies consensus study process. For this study, Dean Halverson and committee members will identify preparedness and response practices to evaluate for each of the prioritized PHEP capabilities and functions defined in the CDC's Public Health Preparedness Capabilities: National Standards for State and Local Planning, and will focus on practices applicable to state, territorial, local, and tribal public health preparedness and response practitioners.
Sponsored by the CDC, the "Evidence-Based Practices for Public Health Emergency Preparedness and Response" study is one of many activities undertaken by the Health and Medicine Division of the National Academies to improve health.
The National Academies of Sciences, Engineering, and Medicine produce groundbreaking reports that have helped shape sound policies, inform public opinion, and advance the nation's pursuit of science, engineering, and medicine.