Mr. James Dadzie, Master of Public Health student in health policy and management at the Indiana University Richard M. Fairbanks School of Public Health – Indianapolis (IUPUI) recently received the David C. Ford Scholarship from the Indiana General Assembly after completing their Indiana Senate Republican Internship. Mr. Dadzie had the opportunity to work directly with the Indiana State Senate Republican Caucus this spring, interning for Senators Liz Brown and Travis Holdman.
Scholarship recipients were recognized during a Family Day on the senate floor, where Senate Resolution 51 was presented to all of the interns. The Resolution expressed the Indiana General Assembly's profound gratitude to the 2018 Senate Majority Interns for their service to the organization during the Second Regular Session of the 120th General Assembly. The interns, representing 16 colleges, universities, and law schools, were recognized for their exemplary efforts contributed to the Senate's ability to be more efficient and responsive to the citizens of Indiana.
Although new to the legislation process, Mr. Dadzie displayed a work ethic in his internship that made him an ideal candidate for the scholarship.
Throughout the internship, Mr. Dadzie's team said he displayed extraordinary professionalism at all times, had a positive and friendly attitude, a genuine sense of humility, and a true dedication to every task he was given, which included staffing the Health and Provider Services Committee, helping with reports and case management, and handling constituent correspondence.
"Being a part of the committee gave me insight into some of the challenges that face healthcare, not only in Indiana, but also the nation," Mr. Dadzie said. "It helped shed more light on the legislative process and how it can provide solutions to pressing healthcare needs."
Mr. Dadzie said he felt confident in his ability to clearly communicate the complex healthcare issues expressed by various stakeholders during committee hearings because of the MPH courses he had taken prior, but he is most thankful for the mentorship he received from his professors at the Fairbanks School of Public Health leading up to the internship.
"I am especially thankful to Dr. Joan Duwve and Dr. Cynthia Stone who were both helpful resources during the application phase of the internship," he said. "Their unwavering support and belief in my ability to succeed were key to securing this internship, and for that I am eternally grateful."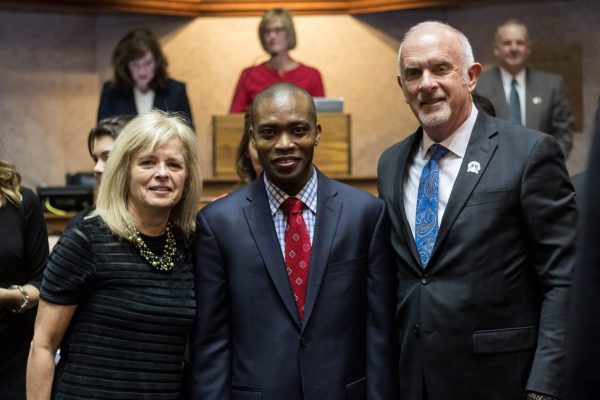 [Photo: Mr. James Dadzie, David C. Ford Scholarship Recipient, with Sens. Liz Brown and Travis Holdman]