Dr. Corinne Joshu, an associate professor in the department of epidemiology at the Johns Hopkins Bloomberg School of Public Health, received a $792K, four-year grant from the American Cancer Society to study remote weight loss intervention in men with biochemical recurrent prostate cancer (BCR). The intervention, known as the EMPOWER trial, will use an enhanced version of a remote weight loss intervention shown to yield clinically significant weight loss to test whether weight loss reduces prostate cancer progression at 12 months.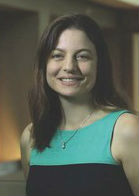 [Photo: Dr. Corinne Joshu]
Approximately 500,000 men in the United States are living with BCR, and EMPOWER has the potential to provide a "first line therapy" to slow disease progression and delay the need for androgen deprivation therapy (ADT), which has significant adverse side effects. More importantly, this "treatment" is without significant side effects and can improve overall health. EMPOWER will also inform biologic mechanisms underlying the association between obesity and prostate carcinogenesis, and potentially identify metabolic biomarkers with prognostic or therapeutic potential.
Dr. Joshu is a cancer epidemiologist who examines the role of modifiable risk factors, in particular obesity, on cancer incidence and outcomes, and aims to (1) inform our understanding of the biological mechanisms that underlie these associations and (2) translate these findings into clinically useful strategies to prevent disease and/or poor outcomes among persons with cancer.